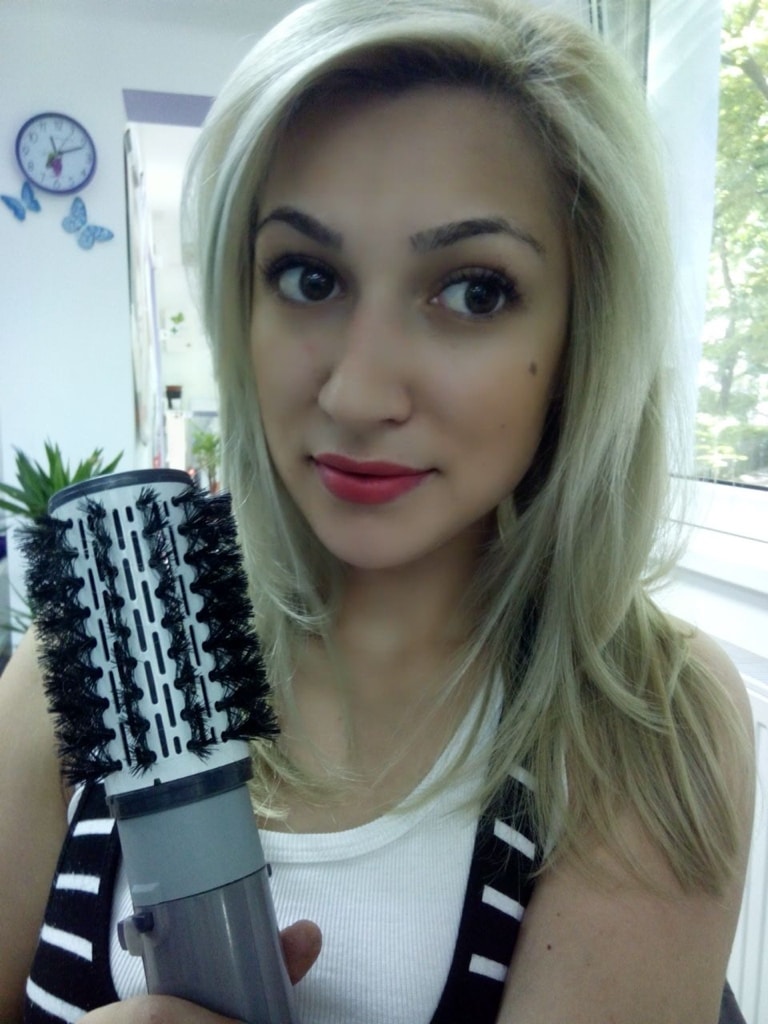 When it comes to styling my hair I couldn't be without my hot brush gadgets.  They are by far the very best products to own because they deliver a superior performance lasting result.
My hair was transformed by hot brushes last year when I first discovered them and since buying my first model I've now tried dozens so this guide will help you to choose the one that's right for you.  Since I've started using hot brushes, I only visit the hairdresser for a cut and colour because I can now achieve genuine salon results in the comfort of my own home which means I look like I've come out of the hairdresser every day!  My hair is just past my shoulders, has a defined curl and is medium thickness – using a hot brush gives me smooth and shiny hair with plenty of lift and body, which is the look I want.
#1 The rotating hot brush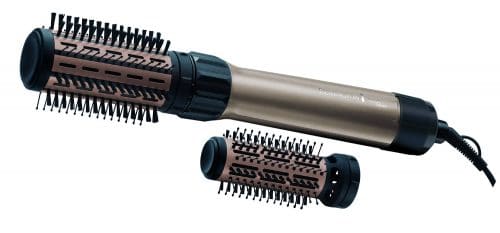 The first hot brush I fully recommend is the Remington AS8090 Keratin Volume &Protect Styler and you can find this on Amazon.co.uk at a discount.  While this isn't cheap, you will receive a highly professional styling tool which delivers all that it promises. 
The dryer styles hair from wet so no more rough drying followed by styling – the Remington does it all in one go.  With 700 watts, it's very powerful and the Keratin coated barrel delivers unbeatable shine.  If you're not used to rotating hair stylers then it might take you a few attempts to get used to it but once you are able to manage this device it's a life saver! 
Alternatively if you don't like the rotating feature you don't need to use it, a simple switch will turn it off.  It also has a useful hanging loop so you can store it away easily without rummaging around looking for it. The Amazon reviews score it 3.6 out of 5 stars based on 84 reviews.  The negatives are it gets very hot so don't let your fingers go near the brush end because you could burn them easily, it's not really good for very fine hair because it doesn't grip it very well and it takes a while to get used to if you've never used one but once you get the hang of it, expect bouncy sleek hair with plenty of body. If you want to use the curling brush to create big curls, this one delivers.
How to style your hair with the rotating hot brush – tutorial
#2 The curling hot brush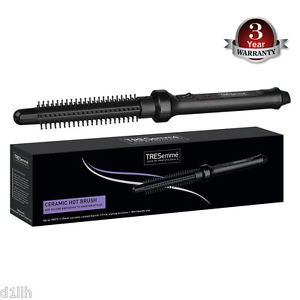 The second hot brush I recommend is the Treseme Ceramic Hot Brush which is a bargain,  so it won't hurt your pocket! 
You can buy it on Amazon.co.uk where you'll find 38 customer reviews and an overall ranking of 4.6 out of 5 stars.  The ceramic brush end is fairly slim so this is only good for creating curls or I would suggest it for ladies with fine hair because hair will wrap round well.  It heats up to 180 Deg C and it has a swivel cord, although it is slightly shorter than other cords at 1.8 m. 
Nevertheless, for the price you get a professional product.  Unlike the Remington you cannot use this on wet hair and you need to dry hair first but it heats up fast and will create curl.  Don't be tempted to touch the hot brush end because you will burn your fingers. 
Overall it's an excellent value for money hair tool which will give you volume, waves or loose curls.  I would give it 5 out of 5 for those of you with short hair or fine hair but I wouldn't recommend it for very long hair or for thick hair.
#3 The straightening hot brush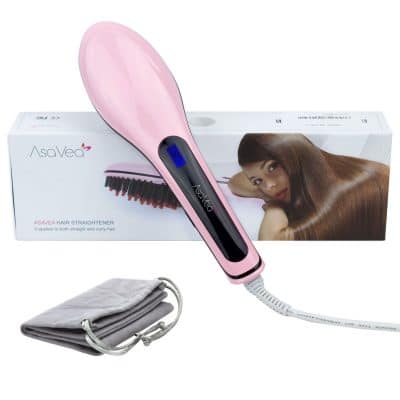 The third hot brush which I think is excellent is the AsaVea Hair straightening brush which is entirely different to the others I've mentioned here and designed to deliver straight, sleek hair – don't expect curls.  This works the same way a hairbrush works; you simply brush your dry hair. 
Don't use this on wet hair because it is not designed to dry hair off, it operates a little like hair straighteners using ceramic technology except there is no clamping feature, the bristles heat up and glide through hair straightening as they sweep through. 
It's good for all hair types, just be careful to choose the right temperature setting because it heats up to 230 Deg C although it's easy to keep an eye on the temperature with the LCD display.  The Amazon.co.uk reviews score it 4.4 out of 5 stars with 36 people giving it 5 out of 5.  For £26.99 I think it's excellent value and I love this new hairbrush technology.  For days I want extremely straight and sleek hair, I use this brush religiously!
#4 The hot brush styler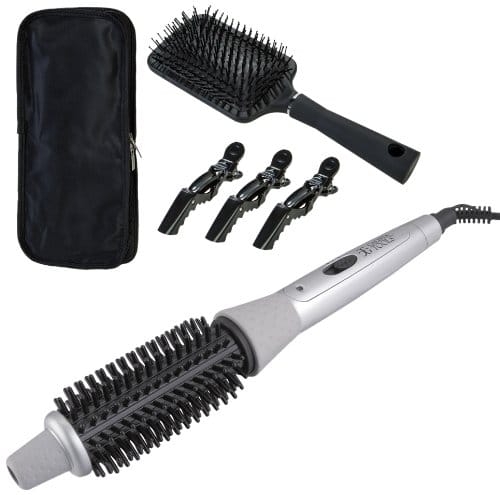 Finally I pushed the boat out and spent a little more on the Perfecter Fusion Styler which I bought through Amazon.co.uk.  Yes, there's no doubt this product is expensive but it comes with a travel bag, styling clips and a detangle brush so when I go away this is the brush I take with me, it's got all the accessories I need and I can curl hair, straighten it, give it waves and smooth it out so it really is worth the extra expense.  It's made using ceramic heat technology with ionic molecules which gets rid of frizz fast and transforms dull hair into glossy locks! 
I also love the booklet it comes with which shows you how to style hair and how to get rid of annoying kinks, remove frizz and give the illusion of thick hair full of body.  It's also excellent for all hair types, from fine to thick, short to long.  Out of 655 customer reviews on Amazon.co.uk 352 rank it 5 out of 5 and it scores 3.8 out of 5 stars overall.  Some people seem to be disillusioned with this product ranking it low but I think they haven't persevered or are not using it correctly; this is why the styling guide supplied is invaluable. 
If I was to choose a favourite, I'd narrow it down to two products, the Remington rotating brush mainly because it styles from wet and the AsaVea – between both of these tools I can choose bouncy, big hair or straight and sleek giving me flexibility when I want it.