A lot of air for sizzling hot hair!
If you've been thinking about buying a hot air styler but you're finding it confusing then I hope to help.  There are so many hot air brushes and hot stylers on the market I know how difficult it is to work out what will work for your hair.
After all, there are so many different hair types, short, medium and long lengths not to mention a variety of textures. Rather than ploughing through the thousands of stylers on the market I have written a short guide as to those I think will work for you.  The information is extracted reviews by people just like you, with different hair types and expectations….so read on for what my recommendations are:<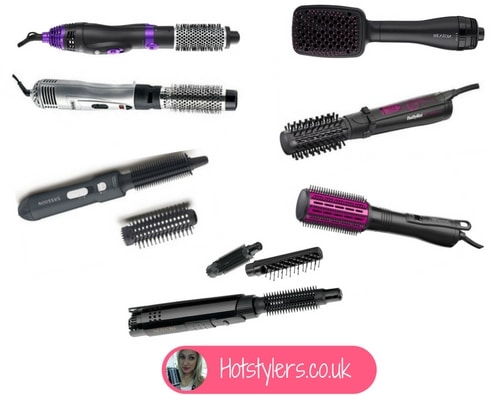 1. Best Hot Air Stylers for Hair Straightening
Revlon just launched its revolutionary hot air paddle brush straightening dryer which promises to dry and style in one go, for ultra smooth, silky results. You simply need to brush towel dried hair in order to dry and straighten at the same time, the soft bristles detangle and the ionic technology ads shine to the finished style.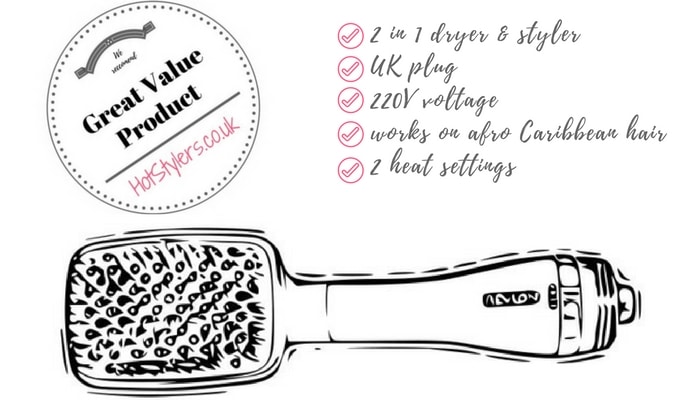 Although not quite as effective as a traditional hair straightener, the Revlon hot air styler brush if it does not deliver "pin straight hair", still straightens, adds body and makes hair manageable. Reviewers give 4.4 stars out of a maximum of 5, at the time of writing this article.
If you are looking for faster results, a hair straightening brush is more appropriate – it is a hybrid between a brush and a straightening iron, used best on dried hair and effective even for the most unruly naturally curly hair. You can use the straightening brush on hair that is washed and dried, and obtain the straightening iron results with  much easier and intuitive brushing move.
Some reviewers even call this a "life saver" as it gets the hair straightening done in half of the time and is easy to use even by people with two left hands like me :). Babyliss Heated Smooting and Straightening Diamond Brush seems to be a good buying option, with 3.5 out of 5 stars given by reviewers at the time of this writing.
2. Best Hot Air Stylers for Lasting Curls
The Remington Volume & Curl AS7051 comes with two different brush sizes, 50mm and 21mm as well as a 30mm retractable bristle brush so it is suitable for almost all hair types.  It's a powerful product at 1,000 watts so gets the job done quickly and with minimum fuss.  Programmed with two heat and two speed settings as well as a cool shot it's a good all over product and proves good value for money.  Out of 137 customer reviews, it has an overall score of 79 5 stars and 28 4 stars.  The only downsides are the on/off switch is not positioned well so often can be switched off during use and it is quite a large product to handle!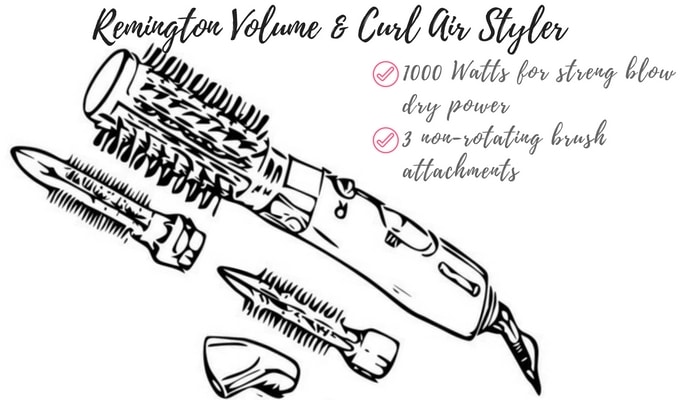 If you are already blessed with naturally curly or wavy hair but need something to control it then you won't go wrong with the Wahl Ionic ZX525 3 Piece Hot Air Styling Kit.  Rated 4.1 out of 5 stars on Amazon it's a good priced product and reviewers with curly or wavy hair seem to be pleased with the smooth, voluptuous curls it produces.
The styler is very fast with 1200 watt (faster than most others) and has the ionic technology that is so vital today in controlling frizz and dull looking hair.  It's excellent for minimizing hair damage and has two brushes (25mm and 32mm) so it works on shorter and longer styles.
3. Best Hot Air Stylers for Creating Great Volume
If you have long hair or thick hair and want plenty of voluminous curls I would suggest checking out the Tresemme 2776U Salon Professional Volume Styler. With a grand total of 402 customer reviews this one scored 4.1 out of 5 stars overall.  The Tresemme 2776U works just as well on short and fine hair (just use the heat setting on one).  Additionally, it is lightweight so makes a good travel companion.  Easy to use and works well getting to the back of the head – as an example, one review states that chin length hair thick and wavy hair can be dry in around 10 minutes with plenty of volume and shine.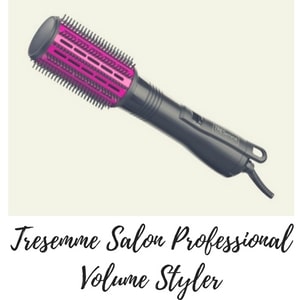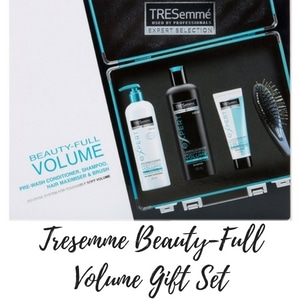 4. Best Hot Air Stylers for Every Hair Type
Best Hot Air Stylers for Fine Hair or Short Hair
If you are looking for volume for your fine hair then I would recommend the Vidal Sassoon VSHA6471UK which is a superb hot air styler.  Designed especially to give lift and volume from the root it will give you enviable curls and waves.  It is supplied with two brush sizes 19mm and 25mm so it's ideal for shorter styles too (use the smaller brush) and gives a pleasing smooth finish that is tangle free.  You cannot fault the price either, on Amazon.co.uk this retails below the price of a salon blow-out.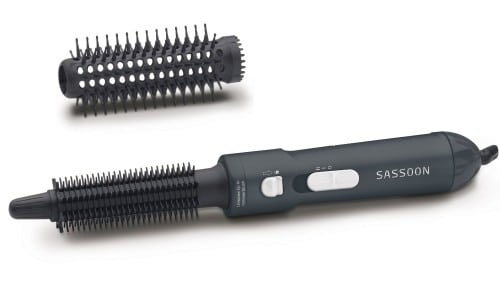 Best Hot Air Stylers for Unruly, Frizzy or Fly-away Hair
You won't go wrong with the Nicky Clarke Frizz Control 1200watt Blow Dry Styler NHA045 which is designed especially to minimise frizz.  Even if you're in damp or humid conditions you'll be amazed at how well your curl lasts.  It has been made using ionic technology so neutralising positive ions found in the atmosphere (these create frizz and dull hair) and in turn produces a smooth, glossy curl.
It's ideal for flicks too and comes with two different size brushes so you can easily achieve the style you want.  There's even a straightening attachment too which means if you get bored of the curls you can switch.  A very versatile product and at a very good price, it's an exceptionally good value blow dry styler.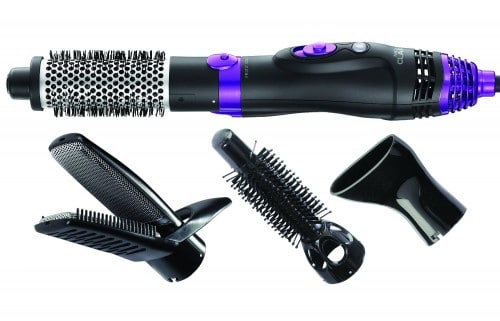 Best Hot Air Stylers for Medium to Long Thick Hair
The amazing number one selling hot air styler the Babyliss 2777U Big Hair Rotating Styler does everything for you except wash your hair!  The rotating mechanism changes direction from clockwise to anti-clockwise meaning your hair is soon a mass of beautiful tumbling curls bringing salon style results to your home.Developed with ionic technology, it has the ability to produce great shine and lustre to even the dullest of hair and it has 2 speed settings plus a cool shot as well as 2 heat settings.  I believe this to be an all over winner (I have one) but it is not suitable for shorter hair styles.  It sells at a discount on Amazon.co.uk and is well worth the investment.  Out of 782 reviews, 544 users gave it 5 stars and 117 users 4 stars.  It's a winner!


5. Best Hot Air Stylers for Small Budgets
At the price of a coffee and sandwich, you will be over the moon with the Revlon 5265CU Shape and Smooth Air Styler. It boasts 108 Amazon customer reviews with combination of 74 at 4 or 5 stars; I believe this is an excellent low cost air styler.  I would buy one of these just as a spare or to carry round as it is also lightweight so makes for a good travel solution.
Customers rave about it being great for fine hair, short hair and also very straight hair – it manages to generate good looking curls no matter what hair texture. However, it is not recommended for very long hair as the brush isn't large enough to cope with a long, large amount.  Nevertheless, it's a good all round styler that won't break the bank  and features two attachments, 19mm and 23mm as well as a vent brush– an all-round superb budget styler.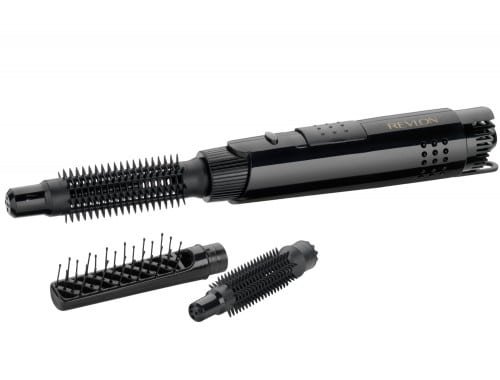 Another excellent budget hot air styler is the Remington Style and Curl Air Styler and with 9 customer reviews giving 4.7 out of 5 stars I would recommend this product.  This is a great on the go styler because it is lightweight so easy to pack away.  It has two attachments so is suitable for medium length and shorter hair (25mm brush and 19mm brush) and has two heat and speed settings so you can set your curls and fast dry hair prior to styling.  The Remington Style and Curl is good for flicks, curls and adding volume, giving a glossy, lustrous finish.  Reviewers like the fact that it can be used on damp as well as dry hair and all say that it works a dream.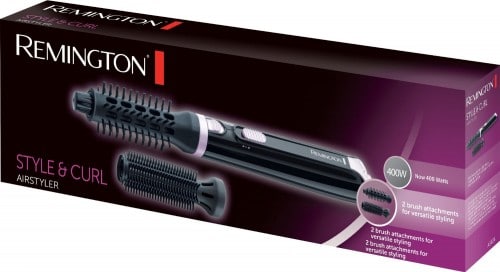 So there you have it – now you can shop with confidence and in a few days when your new air styler arrives you'll have salon curl and volume to be proud of suitable for whatever your hair type.