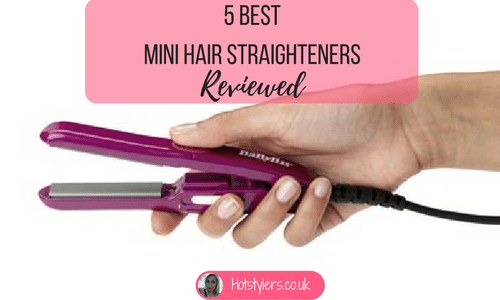 When you're often out and about it's always useful to be able to take your hair styling tool with you which is why if you like to keep your hair straight and sleek, mini hair straighteners are the ideal addition to your handbag! Equally, if you have a sharp, short haircut you don't need great big bulky hair straighteners, you can easily get away with a set of mini hair straighteners but what will work best for you? We've investigated five different mini hair straighteners to come up with our ultimate must-haves!
We have included our top three choices below.  A full review of each option follows in the article below.
What's the Difference between a Mini Straightener and a Regular Straightener?
There's not a huge difference between the two hair straightening tools except the size!  Regular hair straighteners are the most popular straighteners and designed for most hair types.  Generally, regular sized hair straighteners come in 1 inch width plates.
Mini hair straighteners are smaller and their plates are approximately .5 inches.  They are shorter in length too, at around 6 inches (regular straighteners are around 8 inches long).  These straighteners are essentially the same regarding technology.
This means you switch them on, wait for them to heat up to your desired temperature setting. When it reaches the ideal temperature, then you place hair between the plates, shut the plate and glide the straightener through your hair from root to tip.  So, the primary difference is the size.
Why Would I Need a Mini Straightener?
There are a few reasons why you might want to purchase a mini-straightener:
If you have short, choppy hair, they're good for quick and easy styling.
If you are traveling, they're very portable and great for vacation purposes!
For pepping up your style while on the go. Lots of people take them to the gym or to the office and use them to revamp their hair before going out.
They are not designed for long, thick or course hair.
What Features Do You Need In a Mini Hair Straightener?
As with a regular size hair straightener, there are certain features you should look for:
Variable temperature control so you can choose the right temperature for your hair type (low if it is fine or damaged, higher for thick, healthy hair).
LCD display for temperature (this makes it easy to keep an eye on the temperature).
Auto shut-off for safety. This means you don't need to worry if you leave your straightener on, there won't be a fire and they won't overheat.
Good quality material. Look for ceramic, tourmaline or titanium plates as each of these materials is good for conducting heat.
Ionic technology as this means that moisture is locked into hair, banishing frizz and flyaway.
Travel bag. This is useful if you want to port your mini straighteners while you're out and about or traveling. A travel bag will protect your straighteners.
Dual voltage. Useful when traveling overseas.
Dual Voltage?
Dual voltage is a definite advantage for mini hair straighteners as it means you can take your set abroad.  Most people buy mini straighteners for holidaying or business trips. So do look for dual voltage if this is what you want your set for.  Different countries have different voltage and if your mini straightener includes a dual voltage switch, it means you can adjust the electricity voltage to the appropriate setting.
Which Mini Straightener is Best for My Hair?
If you have long, thick or course hair then mini straighteners won't work for you.  You need large plate or medium plate straighteners.  If you have short hair, then mini straighteners are ideal.  If you have choppy layers, a mini hair straightener is great for styling your hair.  Equally, fine haired ladies will enjoy the versatility of a mini hair straightener for on-the-go and travel.
How Often Should I Use a Mini Hair Straightener?
As with any hair straightener, don't over-use yours.  You should only use them occasionally so as not to over-heat hair. Always use a heat protectant before applying any form of heat on your hair.  Don't keep going over and over the same section as this dehydrates hair and is very stressful for it.  Use sparingly, once or twice a week.  A good set of mini hair straighteners should style your hair so that it lasts in between washing.  Just use occasionally to pep up styling in-between if you have to.
What's the Best Way to Store Mini Straighteners When Traveling?
Most mini hair straighteners come with a travel bag so be sure to use this when traveling.  However, always pack carefully and never right at the top of a suitcase as they shouldn't be left vulnerable when suitcases are thrown onto the airplane!  It's best to make sure there's plenty of padding in between your mini hair straighteners.
My Top Selections
I regularly carry a small straightener when traveling for work or holiday.  The options below are my favorite choices.
GHD addicts will already know the value of using this brand. It's the original ceramic hair straightener and still considered to be the best. The GHD Gold Mini Styler is no exception either, the only thing against it is the price but with GHD you are making an investment – in great looking hair. This set retails at around £95 and for the money you get narrow plates so styling short styles is a breeze.
The plates are ceramic and glide through hair and if you want to put the curl back into your hair, the rounded shape ends will work wonders for waves, flicks and those often ubiquitous curls. If you want to style on the go this works too because it's small and narrow plus the protective plate guard is super – you don't need to wait for it to cool down, just pack it away and get to the bar! The GHD Gold mini-styler promises sleek, manageable and healthy looking hair and GHD always gets our vote!
Ceramic plates for even heat distribution
Auto shut-off after 30 minutes of tool left unattended
Lightweight
2 year warranty
Guaranteed smooth finish even on thicker hair
For those of you who would rather not part with £95 for a pair of straighteners (and who can blame you?) but still want good looking hair we love the Cloud Nine Micro Iron Hair Straightener which retails at around £41.61. Unlike the GHD's it gives you a range of temperature settings so you can tailor it to your hair type and the temperature control is a one-touch mechanism so you can switch your setting easily.
Additionally it has an LED temperature display so you know what the temperature is at all times. Great for short hair, creating waves, curls or sleek and straight styles but equally for travelling or when you're on the go but does it work? The answer is they are excellent for fine hair or medium thickness hair but not for very thick hair (they are just too small) however they are probably the smallest set of straighteners available so if you want teeny – these are for you.
Carry pouch
Protective heat guard
Hibernation mode
Variable temperature settings up to 220 Deg C
If you're on a budget or you want something cheap and cheerful to pack away for a vacation we can't recommend the Elle Travel Hair Straighteners enough! They are really inexpensive at just £17.95 and yet over-deliver on results. Promising salon quality, it's small but powerful and boasts floating heat plates which have curved edges. This means you can straighten or curl hair.
The handle has a special cool touch feature so it never over-heats and the cable swivels making it much easier to style. Temperature reaches 195 Deg C maximum (so not suitable for very thick hair) and the ceramic plates deliver even heat distribution, reducing frizz and leaving hair extremely silky, smooth and with a fabulous sheen. Do they work? Most definitely – especially for short-haired styles and for styling on the go.
1 year manufacturer's guarantee
Warning light for safety
Heat resistant storage bag
There's no harm to anyone's wallet with this mini straightener because at £9.99 you will hardly notice the difference and you won't be making a mistake either. BaByliss is a trusted name in hair tools and this product has nano ceramic technology which promises salon quality results. It heats up to 200 Deg C and glides through hair perfectly well without snagging or pulling. Best designed for short hair, it is capable of straightening and creating gorgeous little curls. It's also a good option for touching up hairstyles on the go. It works very well for fine hair and medium thickness short hair but is best avoided for thick, long hair because the plates are too small.
Fast heat up
Temperature up to 200 Degrees C (not variable)
Ceramic technology
Frizz control
Low cost product

If you want small, you've got small right here – measuring just 15cm you could even sneak them out on a night out in a little handbag! This Babyliss is are small, cute and cheap. They also have tourmaline ceramic heating so they turn positive ions into negative ions and lock moisture into your hair rather than leaving a layer of frizz. They promise even heat distribution and no hot spots so your hair isn't at risk of burning in certain areas.
Temperature wise, they heat up to 220 Deg C so they aren't suitable for very thick hair but they do work very well on short hair, fine hair and just about medium thickness hair. You can expect smooth styling without frizz or flyaway and they can produce waves as well. Don't buy these if your hair is very thick or very curly, you will be better off with a larger pair of straighteners.
½" ceramic plates so very, very slim
15cm length
Tourmaline and ceramic technology
220 Deg C constant temperature
Good for straightening out your fringe area!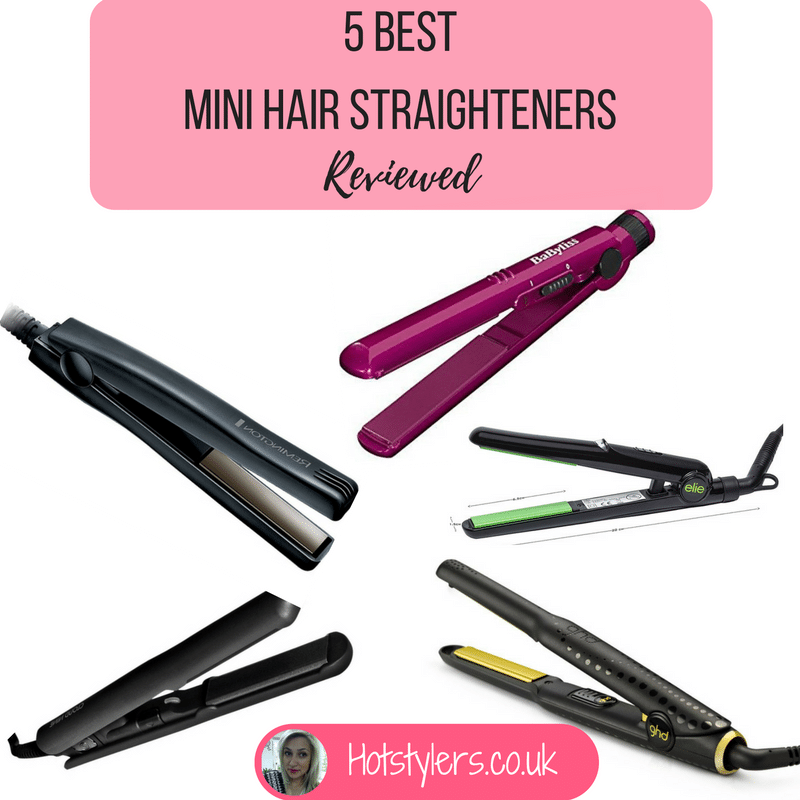 Mini hair straighteners are best for styling fringes, pin curls, short hair styles or for traveling