Luxurious curls are both fun, and a great pick-me-up. They can be difficult to get to stay in straight hair though. Below are some of the best products to hold curls in straight hair.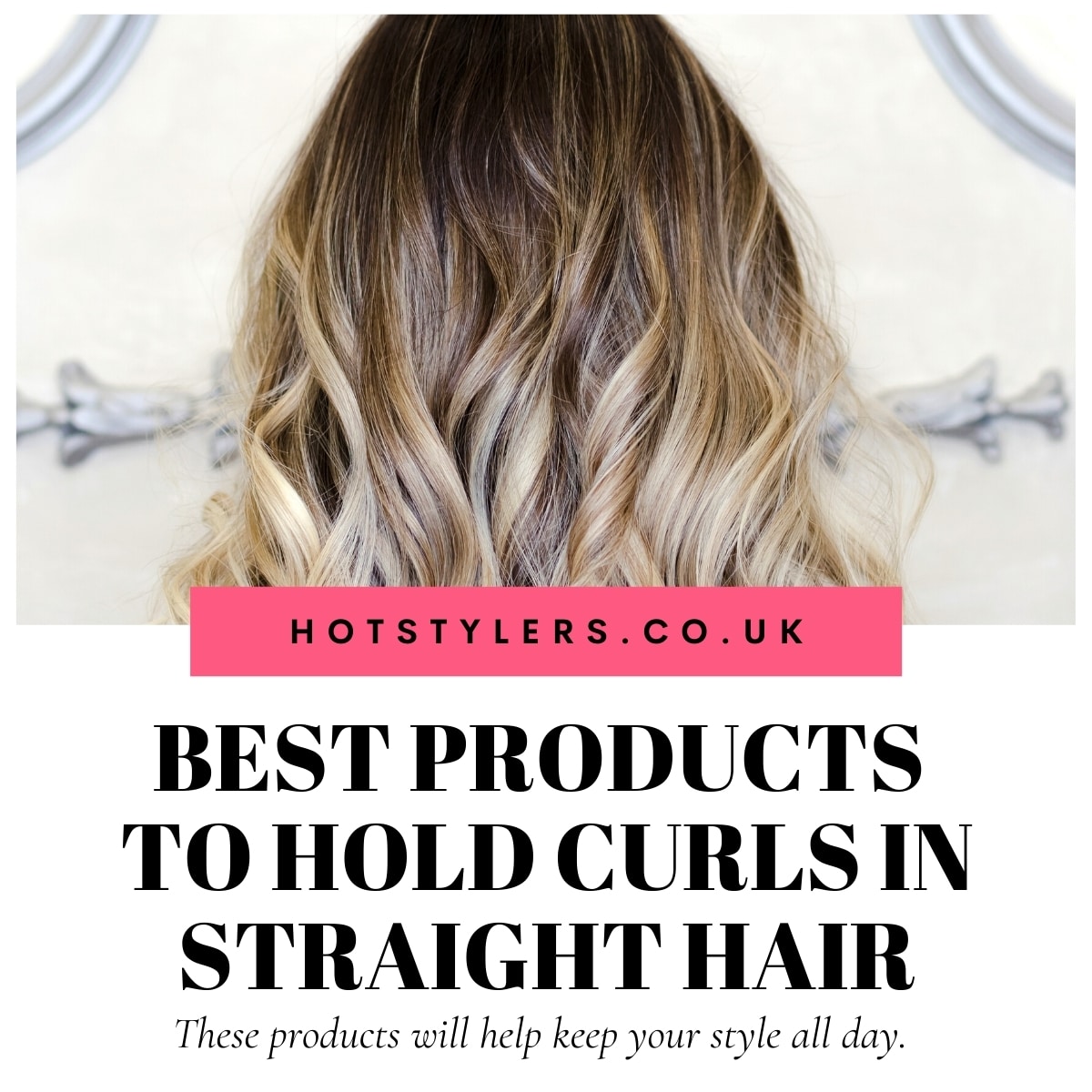 A few things to keep in mind are, how long of a hair routine do you want to have? Do not opt for products that have many steps, if you are not someone who has that many steps for your hair routine. Pick products that will compliment your current routine, and hold your curls in. Keep in mind your budget as well. Quality of the product is what is most important. Do not focus as much on the size of the product, but rather, its ingredients, reviews, and its strength to hold curls in. Focus on products with active ingredients that will nourish, hydrate and help your hair, rather than weighing it down.
Best Products to Hold Curls in Straight Hair
This device is both easy to use, rechargeable, and gives you beautiful bouncy curls. Follow a simple 4-step routine, and watch your flat hair turn into beautiful curls. This device has six temperature and time settings, so you can get the exact shape of curl you want. This little device has thousands of 5-star reviews and customers who have been thrilled with how it works.
This device doubles as both a flat iron, and a curling iron. It is a small, corded device that is perfect for all types of hair. Specifically formulated to not damage the hair this device will give you the tiny bouncy curls you have been craving. This is great for traveling, as it is so small, and great for any length of hair. Get curl and body in your hair, no matter what the length is with this product.
This is a great product to give your hair some volume and body before you curl it. It is specifically formulated for flat, fine hair, and will help you get body and curl. This product is the first step in getting gorgeous curls. It will give you more fullness and texture, making it easier for the curl to hold.
All great hair begins with how it's washed and conditioned. Try John Frieda Frizz Ease to get body and wave to fine, flat hair. This shampoo and conditioner will transform your flat, fine hair into hair that is full and is ready to hold curl.
This hair diffuser has three heat settings and a cool air setting, perfect for giving you the exact look you are wanting. By using the diffuser attachment and the cool air setting, this product would give you volume and body no matter how flat and fine your hair may be. This diffuser is great for all hair types and is easy to use.
Ensure you get a dry shampoo that matches your hair color. Dry shampoo can make your hair more textured and hold a style easier. This dry shampoo also provides protection from UV damage (BONUS!) This dry shampoo will give your hair a much fuller look and feel making it easier to hold curl.
How your hair dries is important in relation to how your hair will fall that day. Reduce frizz and tangles by wrapping it when it is wet. This hair wrap is lightweight and a great size for all lengths and types of hair. Protect against damage and frizz by drying with this. This towel will help you achieve soft, smooth hair, easier to curl and hold curl.
This is a fast-drying, shiny formula that will help hold in any curls. Give your hair more volume and hold any definition with this high hold hairspray. This product will give your hair a full look and feel. Instantly lift your hair and give your hair more volume with Matrix Hairspray. 
To have fine hair and curls, you need to ensure texture and fullness. These products above will help you achieve that. The diffuser will help you get big, wavy curls, and the flat irons will help get tight small curls. Get more body and volume by using these products and keep your style all day with Matrix hairspray. Toss some dry shampoo into your bag for on-the-go touch ups.