Can you style fine hair? Styling and maintaining fine hair presents unique challenges. But, if you're using the right styling products for fine hair, it can make all the difference. Take a minute and think about your hair goals. What is your desired outcome?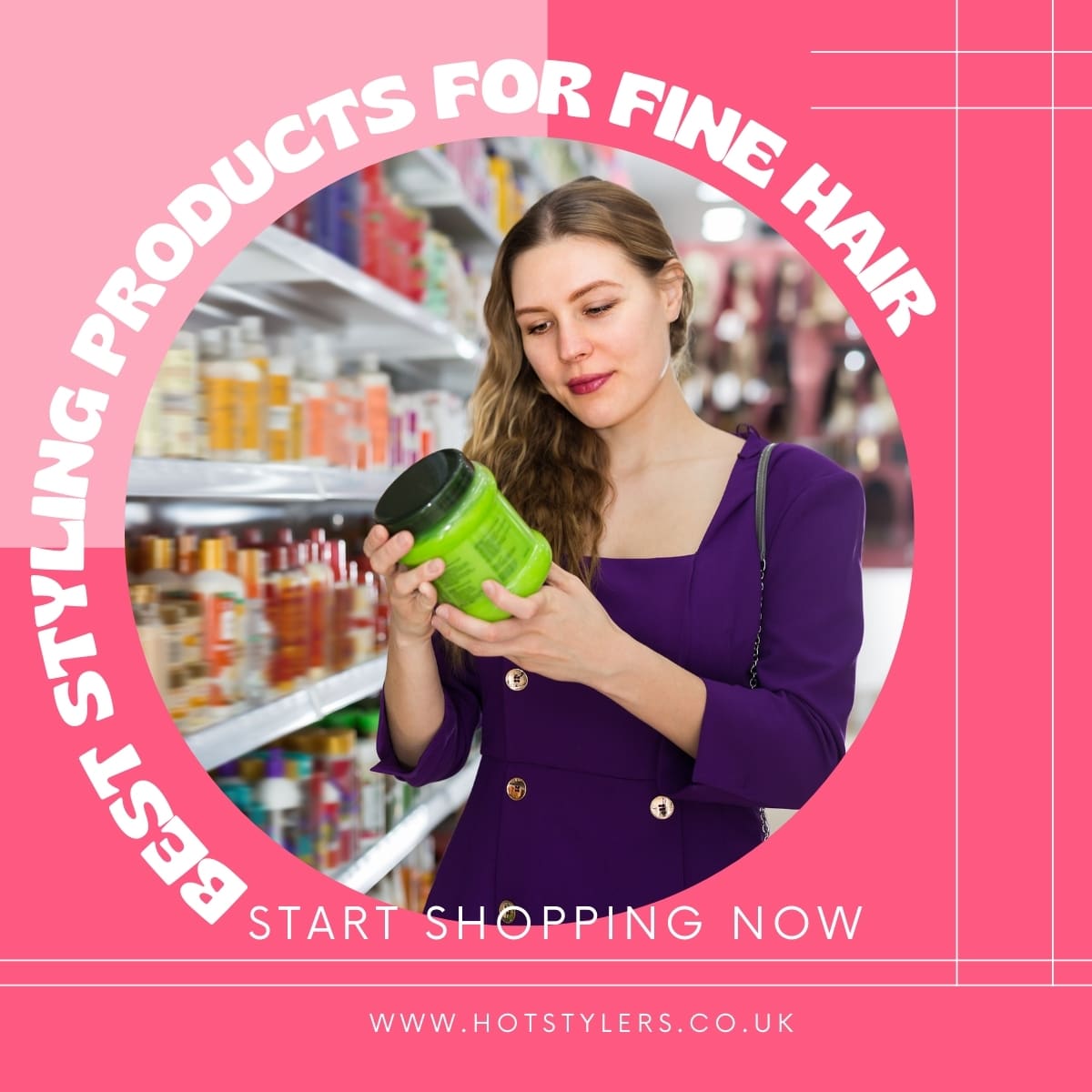 Do you want more volume? Maybe more curl? Knowing the type of hair, you have and what your hair goals are can set your mornings off in the right direction. Fine hair can be a challenge. For more volume in your fine hair do not skip the blow dry part of your hair routine. Many products are activated by heat, so skipping this step would mean the product will not work. Throw a small jar of dry shampoo in your bag for volumizing on the go. If your roots are looking a little flat or dull, just sprinkle some of that magic over them and give your hair a little shake. Voila! Be cautious of how much conditioner you use on fine hair, as well as how often. Too much conditioner has no benefits for fine hair. The products you use also have a massive impact on your fine hair, and that is why below you will find the best styling products for fine hair.
Best Styling Products for Fine Hair
This spray is applied before you style. It helps to create lasting luxurious locks. Bumble and Bumble thickening spray is easy to use. Simply spray onto your damp hair, and then blow-dry. This products' base ingredient is water, so you do not have to worry about it weighing your hair down. Bumble and Bumble thickening spray features several 5-star reviews. This is an excellent option to thicken fine hair.
This thickening spray has thousands of incredibly happy reviews. It is exactly what you need to transform fine, dull hair, to natural looking voluminous locks. This product is designed to give hair more thickness and fullness without weighing it down. It will give you that gorgeous thickness you're looking for.
This is an intense mousse specifically created to give maximum volume. All you do is, apply 1-2 pumps through damp hair and then blow dry. This product will keep your hair full of volume all day (or all night!) Smelling deliciously fruity, you are sure to love this product.
Affinage Roost Booster works by increasing the hair's volume by lifting the hair at the root. Apply 1-2 pumps to the root of the hair and gently massage it in. Then proceed to blow dry finished. Get ready for a dramatic difference! Say good-bye to dull hair and hello to all the volume!
I know I could have put this above with the thickening section, but it really is the best cream product for thin hair too. It is small but powerful. It prevents a build up of static along with smoothing frizziness. To use you simply pump 1-3 pumps onto damp hair and then blow dry and style. This product has a lot of raving reviews from customers who absolutely love this product.
This treatment is used in conjunction with the L'Oreal Professionel Steampod hair straightener. The soothing milk repairs the damaged hair from within, giving your hair a bouncy, revitalized look and feel. Your hair will feel lighter, and silky smooth.
This cream is great for both wet and dry hair. It gives an instant frizz look along with hydrates every strand of the hair. It is a cream that can be used on-the-go as well as part of your styling routine. Gives instant, beautiful results.
This hairspray is great for fine hair and is with twice the hold. Get ready to get the best volume and KEEP it all day long. Formulated specifically for fine hair, this is a must to hold your beautiful style all day.
This hairbrush helps to create healthy, beautiful shine. The pure natural boar bristles are a natural conditioner for your hair. This brush will reduce hair breakage and is great to use on wet or dry hair. Having the right brush can make a huge difference in your hair routine.
This 12-piece scrunchie set comes in gorgeous tones that will match any wardrobe. Made of high-quality satin, these scrunchies are soft and stylish. Scrunchies are a safer way to tie back fine hair, as fine hair is more prone to tangles and breakage. These scrunchies are thin, and would be perfect in fine hair.
This hair clip might just be a game changer if you know what I mean! This pack of 6 contains gorgeous colors that are elegant and chic. They are extraordinarily strong and will hold your hair tightly. These hair clips will not fall or slip out of your fine hair as they feature an incredible hold. 
The right products can make a huge difference in your styling routine. Remember to think about your hair goals, and then find products for your hair type to get to those goals. If you have fine hair, I urge you to give some of these a try!