I know how frustrating it can be when seeking out the best hair straightener on the market.  Take it from me, if you don't already know there are so many to choose from it's no wonder that finding the right one for your hair type and requirements can be a daunting task.  Questions I asked myself when looking included which would suit my hair best?  Which would be the least damaging?  Is there a difference between ceramic and tourmaline and what are the straighteners with titanium plates good for?  Or do they all do the same thing?  I put all of them to the test to try and determine the differences and hopefully this guide will give you some information to help you choose the best set of hair straighteners for you.
Straightening out the difference between flat iron materials
One thing is for sure, there is a constant stream of new advances in hair technology each promising to deliver exceptional results.  So it's not surprising you might find mentions of ceramic, ions, titanium, and tourmaline confusing.  The bottom line is they all share similar properties although some are better than others.  They all will deliver a good result but some are superior to others.  The three different plates are designed to help reduce damage to hair, smooth down the hair shaft so there is no frizz and are able to promote shine.  
Going on about Ions…
When reading up about these straighteners I found a lot of information on positive and negative ions but what do they mean?  Put as simply as possible, negative ions are found in purer atmospheres (think mountain tops and unpolluted environments such as the countryside and even the seaside).  The more polluted an atmosphere, the more positive ions there will be (think busy cities with dust, smoke and lots of pollution).  Positive ions react on hair making it look flat, dull and lifeless.  These straighteners (tourmaline, titanium and ceramic) are now built with neutralisers which, when heated up control positive ions and turn them into negatives.  The result is hair looking more lustrous and in better condition.
Have you read about Infrared? 
Now there's a term that wasn't heard much years ago when referring to hair.  Nowadays as soon as you google hair styling tools you'll find plenty of reference to it so what does it mean?  I learnt it's a form of heat without emitting UV rays so it can radiate safely getting right to the core of the hair.  Then it combines itself with the hair's natural energy and so relaxes and softens. Infrared heat will heat hair evenly and protect it without stripping it of moisture.   Straighteners with plates made from ceramic, tourmaline and titanium all use infrared heat.
Ceramic vs Titanium Flat Irons
Now I've given you some basic information how do you choose between the three types of straighteners?  Here's my lowdown:
These are ideal for medium to thick texture hair. I wouldn't recommend them on damaged hair as they can create even more damage but if your hair is in reasonable condition they are suitable for everyday use.  Ceramic straighteners today have both the negative ion property and emit infrared heat.  They are also less expensive than tourmaline or titanium and notoriously cheaper. 
Do take time to read all the information on the ceramic straightener you choose because many only have a ceramic coating on their plates (hence why they are impressively cheaper).  Bear in mind the cheaper straighteners' plates are more than likely made of plastic or even metal and then coated with ceramic.  You should remember that over time, the ceramic will wear away and leave exposure to the plastic or metal which is not good for use direct onto the hair. If you can, buy the plates that are purely made out of ceramic.  Even so, the ceramic straighteners are more prone to chipping because the nature of ceramic means it is porous and more likely to chip or crack so not as strong as titanium or tourmaline.  However they are still excellent hair styling tools that will serve you well.
I am confident in saying these types of hair straighteners are excellent for all hair types.  They promise (and deliver from what I've seen when I've used them) frizz free, static free, soft, shiny and lustrous hair and can be used every day.  The ultimate in hair technology tourmaline is actually a semi-precious stone coating.  It gives the optimum in neutralising positive ions into negative ions so hair really is salon standard.  If you are suffering damaged hair, don't buy the ceramics, invest in tourmaline and give your hair even more TLC, they are far better for you and you'll thank them for not breaking or further splitting your hair.
These straighteners use a metal as strong as steel and are more commonly found in professional use, ideal for most hair types from normal to thick and course.  From what I learnt, these straighteners would be ideal for superwoman they are so sturdy!  You'll own a pair of these for years and they offer all the latest, greatest in hair technology including transforming the positive ions into negative and using infrared heat. They are also your perfect travel companion because they are so lightweight.  You'll be thrilled with silky smooth, head-turning hair that looks lustrous with an unbeatable sheen.  Most hairdressers use titanium straighteners because they are simply the best!  
In summary…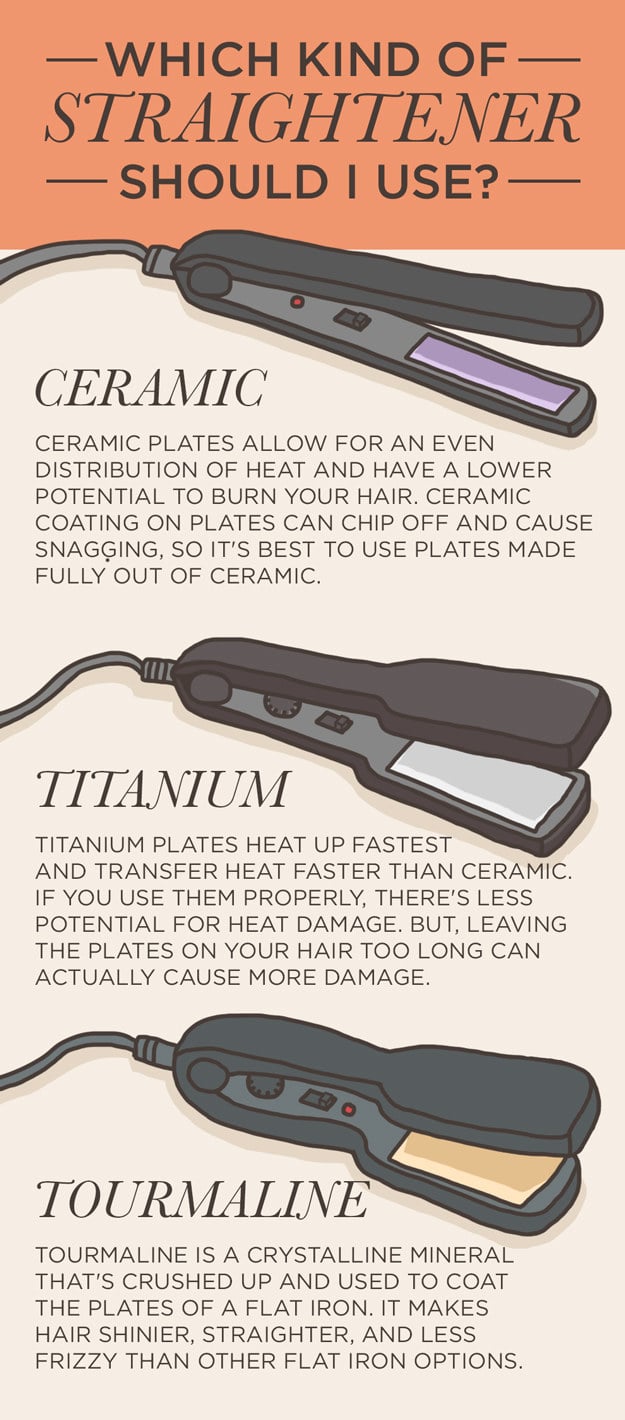 So if you're starting out with straighteners the ceramics will do just fine but if your hair is prone to damage I would advise investing a little more to minimise further hair problems.  Finally, if you want all singing all dancing and your hair is difficult to manage the titanium will have you and your hair floating on air!