The Top 3 Hair Straighteners as rated by Customers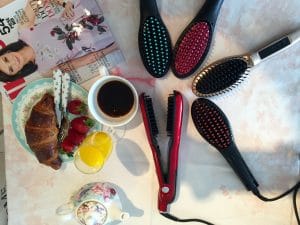 With literally thousands of hair straighteners available to buy, it is difficult to make an informed decision as to what will work for you.  I should know; I have tried so many and discarded a number of straighteners because they don't do my hair justice.  I have gained an inordinate amount of hair straightening experience now so my best advice would be to listen to those who have already purchased hair straighteners.  
Take into account their hair type and desired results as well as comparing your budget and this will give you an indication as to which pair will work best for your hair. Bearing this in mind, and fed up with making my own assumptions, I set about researching the top 3 hair straighteners as rated by customers.  Using Amazon as my base these are the results so hopefully you'll be able to find the perfect pair for you:
The results are in and customers rated these as their favorites.  The H2D Wide Professional Hair Straighteners hold a very high rating based on a very large number of reviews.  Many customers view the product as one of the very best hair straighteners you can buy – according to users.  So what do you get for your money?  This hair straightener offers a mid range price.  For this amount I'm sure you expect great results and they deliver. 
The H2D feature tourmaline coated ceramic plates which is exceptionally up to date technology.  Tourmaline distributes heat evenly and protects hair from damage, converting positive ions into negative ions so giving hair lift, bounce and shine.  The wide plates are especially designed for long, thick hair (and they work like a dream on mine) but suitable for all hair types.  As far as the heat setting goes, they heat up very quickly and the temperature can get to a maximum of 210° if desired. 
The H2D's are not only superb for straightening hair, they can also curl and flick it if you prefer and what I love about them is they are extremely lightweight so easy to pack away when on a holiday.  They work quickly and as some have said, cut hair straightening time in half (when you have long, thick hair this is a huge benefit!)  The reviews speak for themselves and many reviewers think these are even better than GHD's.
The Remington S5525 in my opinion are not quite as good as the H2D BUT they are still an outstanding hair straightener and are practically half the price, so they come in at number 2, just below the H2D.  With my thick and long hair they do the job perfectly, smoothing out kinks and frizz so my hair swings in a glossy sheet down my back.  These are an incredible pair of straighteners for long and thick hair and I am delighted with them. 
So what can you expect?  The plates are made of ceramic and they boast a smoother coating which transfers onto hair so hair is unbeatably lustrous and attractive – that means salon standards at home.  The heat setting is variable so you are able to control it well and they will heat to 230° in 15 seconds.  Finally they come with a 3 year guarantee so the Remington is very deserving of its second place position.
Here's another exceptionally well received hair styling tool I have researched for you.  The Babyliss Pro 235 Elegance Straighteners offers very high ratings and I have to agree, it delivers everything a girl could want from her straighteners!  Expect salon performance in the comfort of your own home and a quick heat up of just 15 seconds.  The temperature is able to reach 235° and has two other settings if preferred, 180° and 200°. 
What I particularly like are the extra-long ceramic plates (25% longer than other straighteners) so they hold long hair really well. The Babyliss also features auto shut-off for safety which I think should be standard on all hair styling tools. Other benefits include the ability to curl or straighten hair so giving you plenty of style flexibility! 
I am able to have dead straight hair on Monday and tumbling curls on Tuesday if I feel like it so it's a terrific product for re-inventing yourself! To enjoy the Babyliss Pro 235 experience, you can purchase it directly from Amazon.