Rotating vs Non-Rotating Hot Air Brushes:
Remington AS7051 Volume and Curl Air Styler vs. Babyliss 2777U Big Hair Styler
I had just got used to using the Remington AS7051 Volume and Curl Air Styler to style my hair and without doubt I was (and still am) delighted with how it works.  However, as I'm a hair styling tool addict, I couldn't resist purchasing the Babyliss 2777U Big Hair Styler which rotates as you style.
When I was researching the Babyliss, the rotator sounded good to me, we are all short on time, and anything that saves on precious minutes had to be appealing!  Plus when I first read about this hair styler on Amazon.co.uk I kept thinking this sounds like less effort.  After all, the rotating mechanism seemed to be hinting that I didn't have to keep twirling the brush to get the look I wanted.  Bearing all of this in mind and looking at the reasonable price of under £40 I waited until pay day to place my order.

As with the 543 5 starred reviews from reviewers on Amazon I was automatically hooked.  What I particularly love about this piece of equipment is it can reach the back of my head with ease and create great looking voluminous curls.  This saves me struggling to twist and turn the brush at the back which is what I usually have to do along with a lot of guesswork.  It's fairly powerful too with a 700 watt dryer and it really lifts hair from the root giving it lots of bounce and body because this hot air round brush moves clockwise and anti-clockwise. Also, the rotating mechanism gives salon style hair in half the time, I feel like a celeb every time I leave the house. 
If you do buy this, you can expect two different heat settings and a cool set which is excellent for finishing off your look.  It has two speed settings too so you can dry hair very quickly or spend time controlling the brush for a sleeker finish.  If you are familiar with ions, this product is designed to transform positive ions into negative ions as it has a neutraliser so giving hair a frizz free, glossy appearance.  Don't worry if you aren't familiar with ion terminology; take it from me it's a positive benefit!
1. Babyliss 2777U Big Hair Rotating Styler Positives
Faster drying

Comfortable grip

Frizz free, shiny and voluminous finish

2 heat settings + cool setting

Minimum effort required when styling!
2. Babyliss 2777U Big Hair Rotating Styler Negatives
It is not great for short styles as the 42mm barrel is large

You must be careful not to get it stuck in hair

Better suited to medium or thick hair rather than fine hair
So in conclusion I adore my Babyliss Big Hair Rotating Styler and I do think it is better than the air stylers that don't the rotate feature however, I have to give some airtime to the Remington AS7051.  If you would rather save a little money, this is available through Amazon.co.uk for a cheaper price and is an excellent alternative.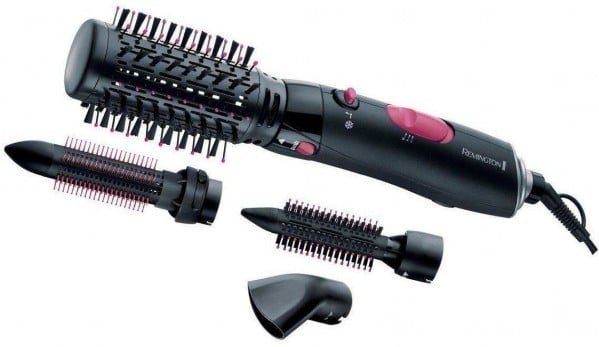 It's stronger than the Babyliss at 1,000 Watt and has the latest in technology boasting anti-static ceramic and tourmaline properties. Additionally, it has two heat and speed settings and a cool shot button so you can finish your hair to perfection.  What I do love about this product is it comes with four different attachments including a 50mm volume brush, 21mm thermal mixed bristle brush and a 30mm  retractable bristle brush so it's suitable for shorter hair too (the Babyliss is not).
You don't have to style this with dry hair, it's fine to have towel dried hair and it is not difficult to use, simply divide hair into sections and off you go.  This product is ideal for big Hollywood curls, old fashioned waves and just good old volume if that's what you prefer. 
Out of 137 reviews on Amazon, you'll find 79 5 star and 28 4 star ratings.  There are some negative reviewers complaining that the on/off switch keeps switching off due to its positioning and others find it cumbersome and bulky. 
1. Remington AS7051 Volume and Curl Air Styler Positives
2 heat settings + a cool setting

4 different attachments so suitable for shorter hair

Produces great shine, bounce and volume

Reasonably priced
2. Remington AS7051 Volume and Curl Air Styler Negatives
A bulky piece of equipment that some find heavy

The on/off switch is badly positioned

It does not rotate!
So there you have it! While the Remington does work for my hair and it is cheaper, out of the two products I've discussed in this article I definitely rate the Babyliss Big Hair Rotating Styler as my favorite.

How to use Babyliss Big Hair Rotating Styler to get the Kate Middleton Look – watch video: