Curly girls listen up because I've got big news for you! Finally, something fabulous has landed on the market which is set to revolutionise the way you straighten your hair. The BaByliss Diamond Heated Smoothing Brush is the latest styling tool and I am hooked. Unlike other straightening tools it doesn't flatten your hair and neither does it leave your ends just "hanging", with this brush you get plenty of body and volume and you can really see a smooth, shiny finish. It's my favorite styling tool and I wouldn't be without it.
BaByliss Diamond Heated Smoothing Brush Features

So what does it look like? It's a paddle brush design so it is capable of straightening a lot of hair at once and you use it similarly to a paddle brush except it emits heat which helps to pull hair smooth and sleek. It's not the cheapest model but in my opinion you should always invest in your hair because it's your crowning glory and cheap products are often the ones that don't last very long or damage hair.
While on the subject of damage, straightening is never great for hair so you do need to be careful with what you use. The Babyliss Diamond Heated Smoothing brush makes sure your hair retains its health because it protects as it smooths. Unlike traditional hair straighteners it doesn't press heated plates directly onto the hair, the heat comes through the bristles and the bristles are coated with special ceramic coated straightening fins. These fins produce heat which smooths out your hair and it uses ionic technology.
The ionic technology converts positive ions in your hair (the elements that make your hair frizzy because they allow strands to be coated in moisture.) This locks the moisture inside the strand, removing frizz but retaining hydration so the brush won't dry out your hair. Another bonus is that when you use this brush there's no need to touch up in between blowouts. I find that my style lasts for days – even when it's very hot.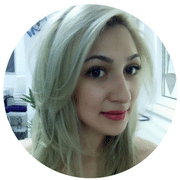 Let's go through the features:
Frizz control
Static control
Flyaway hair control
Flexible bristles which move as you glide the brush through your hair
Detangling comb (although you should always comb through hair first before using the brush)
Good selection of heat settings ranging from 180 Deg C to 200 Deg C (a total of three settings) so you can choose the right temperature for your hair type
Long 3 metre length swivel cord so you can move freely while you style
BaByliss Diamond Heated Smoothing Brush – What Hair Type Is It Best For?
Now before you rush out and buy it think about your hair type because while this is absolutely superb and really does straighten out curly hair it is not suitable for extremely thick, coarse hair and I would suggest looking at a different model if this describes you. If your hair is fine or medium thickness this will definitely work.
In terms of length, it doesn't matter if your hair is short or long because of the width of the paddle brush. It's not designed to use on wet hair so you must dry out your hair first and always use a heat protecting spray to minimise damage. It heats up very quickly, as a suggestion, start on a low heat setting and move it upward if you feel you need to. I always section my hair out and start at the back, getting right to the underneath, this eliminates those unsightly kinks you sometimes get when you straighten. Generally, it takes me just one pass to get my hair super-straight and I still get plenty of body.