For most of my life I have spent over an hour at a time trying to get my straight, fine hair to develop some body and movement.  I have failed miserably and mostly I have had to resort to tying it back into yet another pony tail while I lamented its lack of fullness and volume.  About a month ago I decided I'd had enough, I had to do something about my lacklustre locks, fast.  I didn't want to invest in hair extensions because I didn't want to risk the damage I hear they can cause if left in for too long.  I needed a quick fix and something that promised to do the job without resorting me to visiting the hairdresser regularly and spending my hard earned cash on a blow dry that would only last 1 or 2 days.
I'd heard of these new drying brushes – the styling tool that dries while it styles and I'd always been intrigued but wary of parting with my money in case it was wasted.  Going onto Amazon.co.uk did help.  I read up on various different thermal brushes before deciding to try the Babyliss Hot Air Brush Pro Ionic Styler.  I chose this one because it was in my opinion excellent value.  If it didn't do what I wanted it to do, I wasn't going to be sorely out of pocket at around £30.  Additionally, I paid good attention to the Amazon reviews at the time and with 27 4 to 5 star reviews out of 31 I felt confident enough to buy one.
I have to say, so far the Babyliss Hot Air Brush Pro Ionic Styler has lived up to expectation.  In half the time than using a normal hair dryer and styling brushes, I am getting plenty more body and volume to my otherwise flat and lifeless hair.  People are noticing, and I am getting numerous compliments.  I just wish I'd taken the plunge sooner.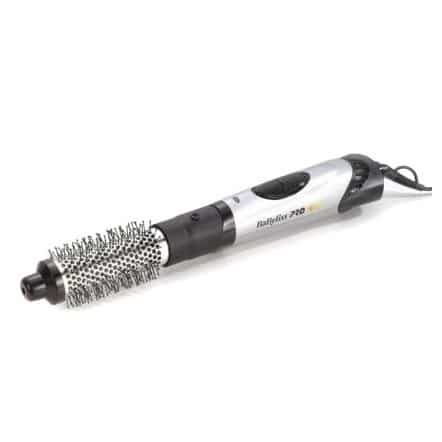 There are so many unsung positives to buying this hair styling tool. It's powerful without being damaging and is designed to improve hair's condition because it has this high spec ionic conditioning system which promotes healthy looking hair.  I will try and explain what it does because it is quite complex.  The air around us is full of particles which are known as ions.  Purer air will contain more negative ions (imagine the mountains or somewhere high up away from city smoke!).  Where most of us live, there are many positive ions which come from polluted air, dust, smoke etc. and they can make hair appear flat and dull (that's me!)  The Babyliss Hot Air Brush Pro Ionic Styler is designed to produce the negative ions needed to help the hair's condition and appearance.  It does work, my hair looks infinitely better than using a hairdryer and as good as, if not better than when I visit a hairdresser.
Babyliss Hot Air Brush Pro Ionic Styler Pro's:
There are so many positives to the Babyliss Hot Air Brush Pro Ionic Styler:
It has a cool tip so you don't burn your fingers

It's lightweight, great for carrying round

It dries as you style – no more brushes needed

It conditions the hair while it dries

The cord swivels so won't get tangled up

It has two heat settings so you can use the cooler setting to set your hair

The brush is large enough to create good volume and can be used for curls too

It banishes frizz for those who suffer when the weather is humid or damp

It's quick!
I can't find anything negative to say about this product. Looking at the reviews, only a couple remarked that the speed control switch was loose and one or two felt the brush size was too large for their needs but there are other brush sizes available so there's nothing to stop you enjoying salon hair at home – every day (like me!)