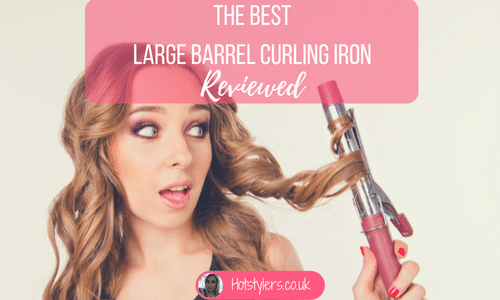 If you struggle with curling up your long hair it might be that you haven't found the right hair tool to do the job properly. Sometimes the size of the barrel is too small or too big or perhaps the product isn't powerful enough to tackle your hair type. The first thing you need to do is to decide the type of curl you want to achieve.
Today we're going to focus on how to create large curls or loose waves for long hair. For this type of style you need a big barrelled curling iron. A small barrel will create curls and waves but it won't give you that Hollywood big style that you crave!
So, if your hair is mid length or longer and you want big curls you need a big iron – the question is, which is the best for you? Let's look at our three favourite products on the market to help you decide which will do the best job for your hair: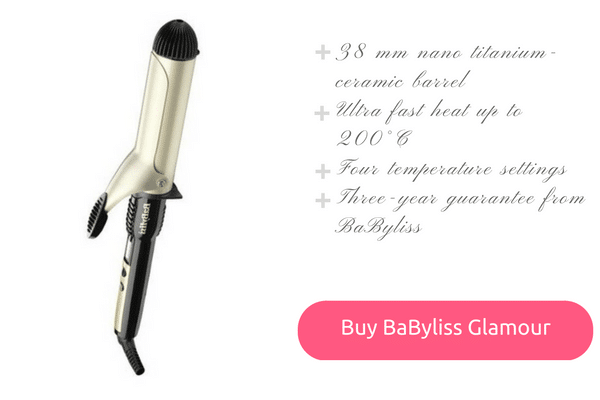 As its name suggests, this curling iron is for glamorous curls and we mean big, generous, sexy curls. This one delivers great results. It's also very affordable, so it won't break the bank! The barrel measures 38mm and is made out of titanium and ceramic. Using this, hair is transformed into sleek and smooth curls with absolutely no frizz.
With nano technology, it banishes positive ions so moisture is locked in – rather than coating the outside of each strand which is when you get that unsightly frizzy look! The BaByliss helps to make sure that hair doesn't end up looking dehydrated and actually it looks remarkably healthy and glossy. Always use the temperature to suit your hair (there are four to choose from up to 200 Deg C) too low and you won't get the curl you want but too high and you risk burning it.
Thick hair can cope with high temperatures as long as it isn't already damaged but whatever your hair type it's really important to use a quality heat protecting spray before embarking on curling your hair.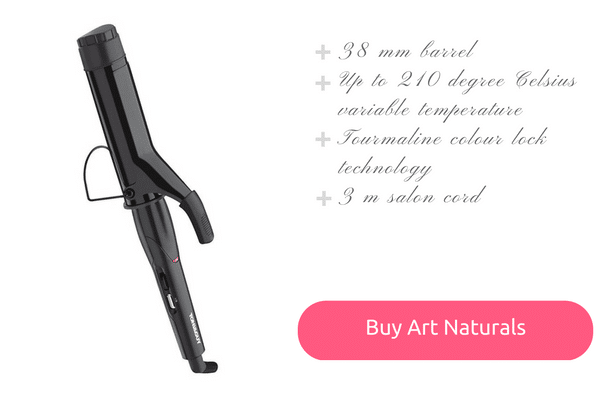 Here's another 38mm barrel tong which is amazing at creating those giant curls you love. It's very affordable and it's a good addition to your hairstyling kit. The TGIR1928 Jumbo Hair Tong promises superb shine, plenty of volume, big waves and jumbo curls. It's very easy to use, if you want curls, wind hair tighter and closer together round the plates, if you want waves, wind hair with plenty of gaps in between.
The Toni & Guy tong comes with Color Lock Technology so you won't alter your hair color and it heats up fast with a high maximum temperature of 210 Deg C (only use the top temperature if your hair is thick and not damaged). The tourmaline technology is excellent for adding shine and removing frizz while keeping moisture locked into hair rather than drying it out during heat processing.
Additionally it has a very long styling cord so you can move around freely as you style and it has the auto-shut off feature so if it remains idle for half an hour, it automatically turns itself off.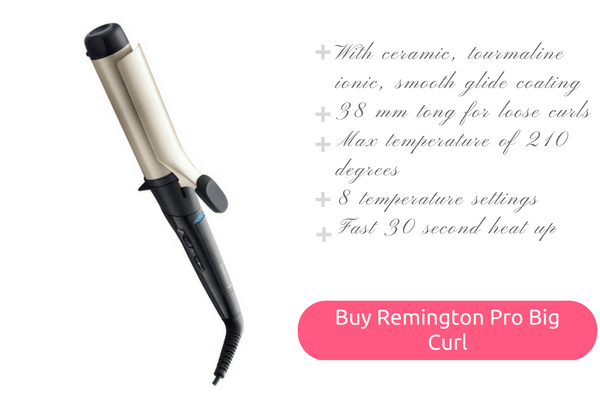 This curling tong is another low price heated styling tool and it's an excellent product. It gives you ceramic and tourmaline technology with ionic coating so it gets rid of frizz and static immediately. The nano technology means hair is left manageable and shiny and it keeps hair's natural hydration locked in whereas so many other stylers strip hair of moisture.
It doesn't pull, snag or break hair (so long as you're gentle with it) and it heats up remarkably quickly. You can select from eight different temperature settings right up to 210 Deg C but only use the highest temperature on your hair if it is thick and damage free. You will like the heat protection stand which prevents surface burns and the auto shut off is a godsend if you're forgetful because it switches itself off after one hour.
Quick Tips To Help You Style Curls Into Your Hair
If you have a lot of hair or if it is very long, sometimes it's hard to curl your hair easily try these tips to help make light of curly work!

Section out your hair into even amounts and pin each to your head. Then simply unpin section by section, curling one at a time. This helps you to achieve even curls at the back and the sides.

Put your hair into a high pony tail and then take even sections one at a time and curl them up. Release your pony tail for soft curls from halfway down your hair.

Similar to the pony tail, put your hair into two pig tails at the side of your head and separate into three sections. Curl each section and then release your pigtails. You will get a curlier look than the pony tail but it still looks effortlessly natural!