We're not quite half way through the year but I've been doing some major research into the best curling irons I believe you can buy.  I love long, tumbling curls, short bubbly curls, loose curls, tight curls, ringlets – you name it, I love them all. However, being born with non-descript hair with a difficult kink I don't have much curl to it.  Not being one to suffer in silence, I have spent the best part of my adult life trying to liven up my hair and give it the curl I think it deserves!
I've used many different hair styling tools to try and achieve the curls I want and now I think I've narrowed it down to three different equally brilliant products, all of which are conveniently available from good old Amazon.com. So if you're like me and think you still haven't found the curling irons for you – well I might just surprise you and put an end to your search.
1. Best curling irons for generous waves
The first curling baby I have fallen in love with this year is the Babyliss Glamour Waves Curling Tong.  This one won't break the bank at a very reasonable price (from Amazon) and will bring you plenty of curl for the money.  If you're looking for Cheryl Cole bounce these will deliver because they have a generous sized ceramic barrel which is made of lightweight titanium and at 38mm it is especially designed to give big, voluptuous curls or gentle waves. 
As it should, it heats up very quickly so when you're in a hurry it's ready and waiting to go. I am really particular about temperature.  I want to be able to adjust curling irons to a reasonable heat so as not to damage my hair; this one has 4 different settings. It has a stand too which is useful so discouraging potential burn marks.  A huge plus for me is the auto-shut off feature which means it won't over-heat if you forget to turn it off.  Some of the reviews I've read say it doesn't heat up enough to give lasting curl but it can heat up to 200° which for me is hot enough.  Nevertheless, for the money you're getting a great product and if you want waves rather than curls this will work for you (it did for me).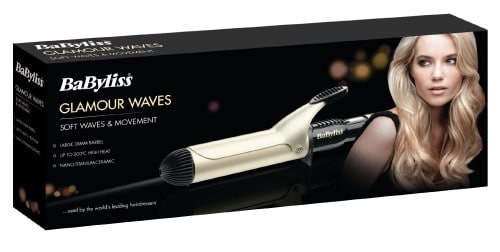 Babyliss 2289U Pro's
Auto shut-off – brilliant if you forget to turn it off, protects against over-heating

Really good value for money

Heats quickly

Comes with a useful stand
Babyliss 2289U Con's
Some say in reviews it doesn't heat up enough

Some reviews state the curl doesn't hold

Reviews seem to state it's better for waves rather than tighter curls
How do you use the Babyliss curling iron for waves?
2. Best curling irons  for tight, small curls
The second curling irons I recommend is the attractive silver Remington Keratin Therapy Pro Curl Styler which is simply fabulous and another bargain at just over £20 on Amazon.  This has a Keratin coating on the ceramic which helps to protect hair (hair is made up of the protein Keratin) and a good 19mm barrel which is designed especially to keep curls in.  I love the temperature control which heats to 210° if you want it to get that hot.  It does take slightly longer to heat up than the Babyliss, at 30 seconds but really, what's a few seconds between friends?
What I adore about the Remington is its versatility.  Whether you want tousled looking hair, great big 70's style Charlie's Angels curls or flick ups, this tong can do them all.  I use this every day and with a twist of the tong, I can create a multitude of styles.  Like everything, it takes practice but it does deliver.
Obviously the tighter the barrel, the tighter the curl so the 19mm is a good in-between solution.  If you check out the reviews (86 5 stars out of 136- at the time I'm writing this) you'll note that users really like their curls.  It has a superb swivel cord too so the curling irons don't get tangled up during use and it's so easy to operate.
Remington Keratin Therapy Pro Curl Styler Pro's
Keratin coating on the ceramic for protection when styling

Swivel cord so no tangling up!

Good barrel size for a variety of curls

Variable heat setting

Comes with a great pouch
Remington Keratin Therapy Pro Curl Styler Con's
You don't know what heat setting you're on when you are using it

No auto shut-off for safety

Some reviewers say for long hair the barrel is too short to get all the hair wrapped round
3. Best curling irons for loose curls
Finally, I would like to give the thumbs up to the complete bargain that is the Tresemme Volume Curl Tong.  This has a very generous 32mm barrel (great for those big curls us girls love, it isn't as good on tight curls).  I found this worked well for me (medium length kinky hair of average length). It heats up to 200° which for many is hot enough (certainly is for me) and has three temperature settings.  The curling irons have ceramic plates which mean they heat up fast and it comes with a special mat so you don't damage any surfaces when using it.  This curling tong is an unbelievable bargain on Amazon – it's my winner if you are on a budget.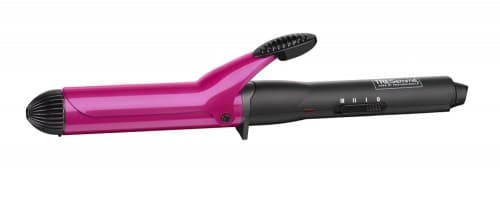 I think the reviews speak for themselves; generally people love this product because it heats up quickly and creates a loopy curl.  I would suggest even using the Tresemme hair products such as the styling mousse because it helps to keep the curls in place.  It's so easy to use, just wash hair, let it dry naturally and use the tong.  Keep it in place for approximately 10 seconds and let the curl fall into place.
Tresemme Volume Curl Tong Pro's
Comes with a useful heat-proof mat

Adjustable heat setting so you don't have to worry about burning hair

Amazing value

Good for large, voluminous curls

Stays in for hours!

Comes with a 3 year guarantee
Tresemme Volume Curl Tong Con's
Not great if you want smaller, tighter curls

Better for short to medium length hair as the tong isn't that long

The switch is a little fiddly
In conclusion, for big, bouncy curls go for a larger barrel like the Babyliss 2289U.  If you want to be able to change your curls, such as smaller, tighter curls, flicks and voluminous curls the Remington Keratin Therapy will serve you well! If you are on a tight budget then the Tresemme Volume Curl is an incredible purchase.