Summer is coming, and one of my hair goals is to finally get the wavy hair summer look, with minimum effort and a hair waver.
For me, the wavy look is about freedom and fun. What I love most, is when I groggily wake up in the morning, and decide that second day wavy hair does look better!
Related: 4 Ways To Achieve Easy Beach Waves: Perfect Tousled, Wavy Hair
With today's smart styling tools, it's actually easy to get beach waves. I'm personally not a fan of crimpers, though, as I think the end look is a bit studied and artificial.  For easy, loose summer waves it's just about learning how to do it and what the best hair waver to buy is.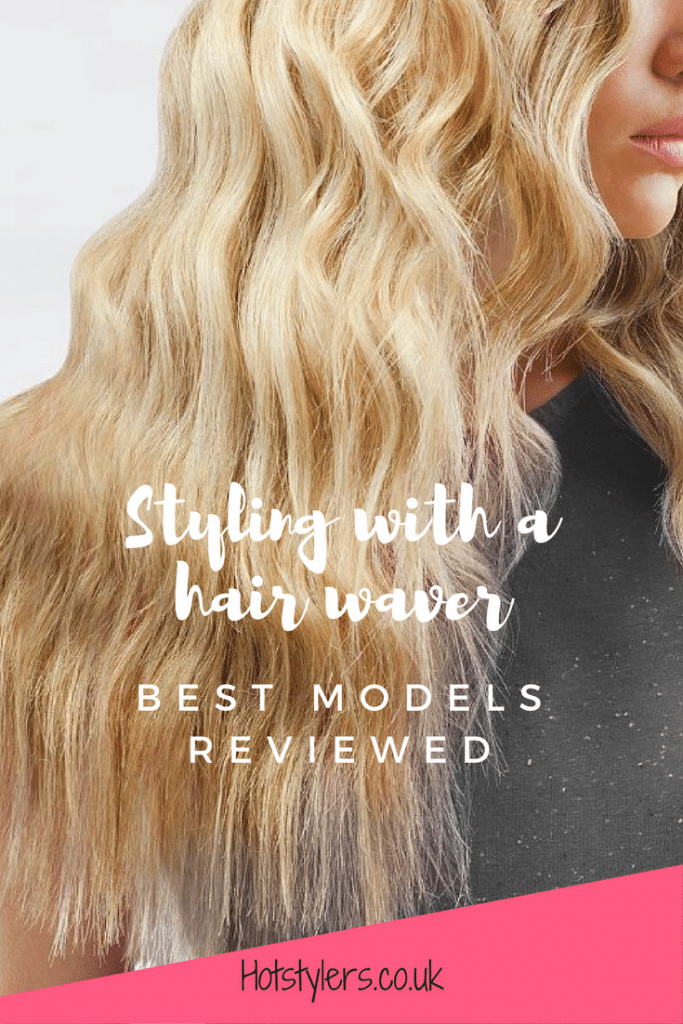 The online marketplace has the best selection available and mostly, the prices are sometimes so much better than buying on the high street.
I found this one on Amazon.co.uk and, as I've had plenty of success with other Toni & Guy hair stylers, I was confident this would work well.
The plates are very deep, 32mm so I would only suggest this for shoulder length or longer hair. It won't work on shorter styles so if you've got short hair, skip this!
I like the ceramic tourmaline technology especially if you have tinted or highlighted hair because it states that this keeps colour firmly locked in, always a bonus!
As a hair stylist, the 3 m long cable is a must-have because I need to avoid getting twisted up! This tool is not lightweight though, but works quickly so you shouldn't have to hold it on your hair for too long.
5 Steps to perfect waves with a hair waver
You must wash and dry your hair first and apply a good heat protectant to your hair.
Then, I would suggest combing out hair and then sectioning out carefully into equal amounts and pinning it all around your head.
Heat up the waver and let it reach the temperature you want (try not to go too high unless your hair is very resilient).
Simply unwind the first section and place it into the waver. Close the plates for a few seconds and release. Don't leave it on too long because you don't want your hair burning. Repeat all over your head and either shake out the waves or leave them for a more defined look.
I always add a little serum at the end of curling to encourage shine.

This is a slightly less expensive hair waver and the reviews are mostly positive.
It's also lighter in weight than the Tony&Guy.
I would say that this creates more defined waves and if you use a higher setting the waves are decidedly crimped. This tool is similar to the old crimpers in the 1970's and 1980's, but the technology is far superior. It won't damage hair, as long as it's used properly, in conjunction with good styling products and heat protecting spray.
The plates are coated in ceramic so there won't be any hot spots and there are three heat settings. If in doubt, always use the lowest.
To create waves, use the directions I refer to previously, but because the results with the BaByliss are more crimped than waved I would suggest alternating the sections you put in the styler.
Additionally, you should use a lower setting so the curls aren't too crimped looking. This styler comes with a heat protecting mat too so there's no risk of burning your surfaces if you use it.
How to use a hair waver?
This list wouldn't be complete with this last minute addition. Lee Stafford's retro waver is simplicity at it's best: intuitive and easy to use, it heats up to 200 degrees C.
It's ceramic plates are infused with argan oil to nourish and protect hair from heat damage. The argan oil, lasts up to 2,500 uses.
This stylish waver helps recreate the glossy, Hollywood glam look, with perfect cascading vintage waves.
What's your favorite wavy hair look this summer?