With my unruly frizzy hair I'm always trying new hair stylers in my quest to achieve the big, bouncy Hollywood curls I adore.  In the past, if I wanted my hair to look glamorous, I visited the hairdresser but that was before I discovered my Remington Keratin Therapy Pro Volume Styler.  This product has truly changed my life and my hair!  No longer does my hair resemble a frizzy mess when I go out into the humidity, my curls don't drop out after a blow dry and I even wake up with pretty, soft waves after using this hot hairbrush.  It's my number one hair life saver – I recommend it over anything else and here's why.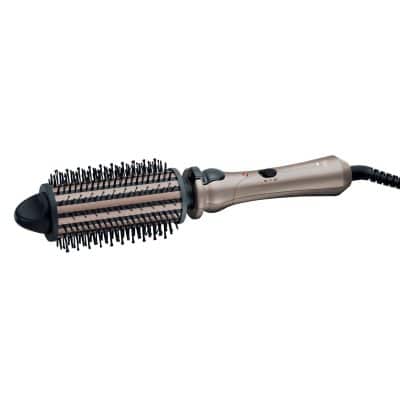 In my opinion it is an excellent budget price styler, I found mine on Amazon.co.uk at a very good price, so I wasn't too worried if it didn't work as well as I hoped.  It arrived very quickly and inspired me to get started!  I didn't have to plug in my hairdryer after washing my hair because this hair styler dries and styles all at the same time – no more holding a brush and a hair dryer all at once juggling both of them!  While this took a bit of getting used to, once I got the hang of it, it halved the time of styling my hair from half an hour to just twenty minutes.  When you're in a hurry in the morning – those extra ten minutes make a huge difference!
I should mention that my poor hair has gone through a lot of processing over the years so it's not the healthiest looking head of hair however with this hair styler it's now looking so much better.  This is because I no longer use curling tongs or curling wands and nor do I blow dry my curls into submission. 
The Remington helps it stay healthy because it has a Keratin and ceramic coating, protecting hair from heat damage and putting keratin back into hair.  Hair is made of Keratin so this is a huge bonus and the two heat settings means you can select the right temperature for your hair type.  The mixed bristle brush doesn't snag either so as long as you've thoroughly combed through your hair before use you won't get any pulling. Simply wind the amount of hair you want to curl around the brush and use the curl release mechanism (which is a little switch allowing you to pull the brush away from your hair) to reveal a big, bouncy curl.
After use, expect glossy and shiny voluminous curls which last for ages, even after sleeping! Also, if you're a little forgetful (like me) the auto shut-off is a miracle meaning there's no risk of overheating because the hair styler switches itself off after one hour.
This brush is ideal for big curls, if you're looking for bubble curls or smaller curls then bear in mind the barrel is 45mm so it's fairly large.  It's also probably only suitable for shoulder length and longer hair although a friend of mine with a chin length bob tried mine and curled her hair under, she was delighted with how sleek her hair looked.  For shorter hair, I would try another product.
If you're still not convinced, just check out the Amazon.co.uk reviews where you'll find an overall rating of 4.2 out of 5 stars with 169 people rating it 5 out of 5.  Most people agree it creates plenty of volume and curl very fast and it's easy to use.  It's a superb brush for controlling frizz, getting curls to look salon perfect and for a special occasion there's now no need to visit a hairdresser because with this brush you can achieve red carpet curls in minutes.