It's not every day that you get to spend time with a salon owner and hairdressing pro because their diary is usually full from morning to night. However, Hotstylers.co.uk was given a fabulous exclusive and spent some time talking hair, haircare and life with Joseph, owner of Joseph Ferraro Hair.
The award-winning hairdresser is conveniently situated on the Leeds Road in Harrogate with another boutique salon in Cheltenham Crescent. Both salons are fitted out in modern styling and clients are greeted with a warm welcome, there's no doubt their every need is tended to.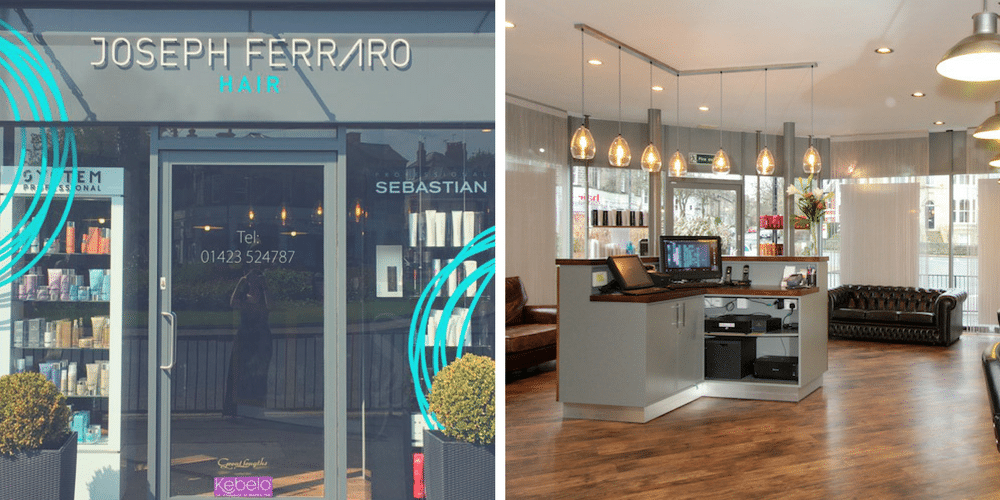 We know that Joseph Ferraro Hair is considered to be the best hairdresser in the area and indeed in the North of England. It comes as no surprise, as Joseph is a five-time finalist for North Eastern Hairdresser of the Year, Salon Stylist finalist in the 2013 Hair Awards and a Hairdresser of the Year nominee. He's also a well-respected top name across the industry.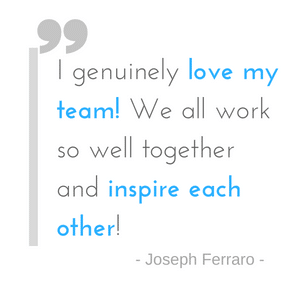 For those of you who haven't had the pleasure of meeting Joseph, he is originally from Australia and has many years of invaluable hairdressing experience behind him. He's often called upon to attend prestigious events such as London Fashion Week, Salon International and Pro-Hair Live as well as styling top models on fashion shoots. Joseph focuses his energies on his family, running his busy salon, attending to his clients and educating others on his art.
Joseph Ferraro Hair salons have a team of experienced stylists and colourists and also offer a fully beauty therapist service. When you do visit for your stunning transformation you can really pamper yourself with a relaxing massage, a facial and show off pretty manicured fingers and toes too!
Emma: Joseph, what inspires you every day and where do you get your energy from? It must be hectic doing what you do!
Joseph: My inspiration definitely comes from my team, without them it would be so difficult to do what I love to do. I genuinely love my team! We all work so well together and inspire each other. My energy for this industry comes easily because I love everything about it. It's always moving so there are fresh hair ideas coming through every week. No two days are the same. I know I am very lucky that my work is varied, for example I am often out at photographic sessions, I also teach, take part in hair show work and of course, there's the day to day running of my salon.
Emma: What does a typical day in Joseph's life look like?
Joseph: I wake up and hopefully get to spend a small amount of time with my little boy, Emilio – that's if I don't have to leave in the early hours for a meeting or a shoot. I then check all my emails and catch up in between. When I am in the salon I work like many other hairdressers with back to back clients and trying to direct my team in any events or competions they may be involved in. Some days I wake up in a hotel room because I'm getting ready for my teaching work with Sebastian Professional Hair Products which I really recommend by the way!
Emma:

 Do you have any recommendations for genuinely avoiding heat damage from hair tool use?
Joseph: I always say to my clients to use high quality shampoo and conditioners that help to repair the hair's structure. It's vital to always use a heat protection spray or oil before any hot tool including a hairdryer. If you go over your hair on the second day without washing it then you should still do a light spray of heat protection before any curling or straightening.
Emma:

 We know your salon is rated one of the very top salons in the UK. What makes it unique compared to others?
Joseph: The one thing I'm so passionate about is education and pushing my team to the limit. I believe by entering competitions and challenging my team it takes my staff out of their comfort zone which in my opinion is the only way to grow. We have been voted finalists five times in the British Hairdressing Awards for the North East and Wella UK. We are also Trend Vision finalists (four times). Additionally, we are a Fellowship for British Hairdressing Mentor and we work closely with the Sebastian Professional core team. That's just a little of what we do! Not many salons in Harrogate can say that about their team, that's why I believe we are unique in comparison to our competitors.
Emma:

 What are the best hairstyling tools for curling hair, creating a big, bouncy blow dry and for creating a sleek, straight style and can you advise on premium quality hairstyling tools for women on the go?
Joseph: I like to use the BaByliss Pro Curling Tongs, I really like the feel and the length of the actual heating wand and it is a great size to achieve a very balanced curl. For straightening I tend to use my Sebastian Professional irons which I think are great.
We'd like to thank Joseph for his time – it's not often you get to ask questions to a busy award-winning hairdresser and we look forward to visiting one of the two fabulous Harrogate salons next time we're in the North of England.