In the ever-growing hairstyling industry, where thousands of salons, hairdressers and hair styling brands compete for the attention of an ever more informed and demanding audience, a few names stand out of the crowd, as undisputed hairstyling trendsetters, celebrity household names and multi million empire entrepreneurs, who turn everything they touch into gold. What separates the top celebrity hairdressers from the very talented thousands of stylists that never make it to the top?#Hairsay – our series of interviews with top hair stylists reveals insights into the inspiration sources, artistic vision and work ethics of the top celebrity hairdressers and successful salon entrepreneurs. We put together an infographic to summarize the creative philosophies behind the success of the top hair stylists, to serve as inspiration to all the talents who want to make it to the top in the competitive hairstyling industry.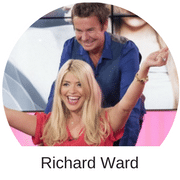 Styling hair since the tender age of 17, Richard knows everything there is to know about hair, from what product to use to how to get even the most difficult hair to look perfect. A few well known royals  and a host of other big celebrity names all get their hair done by Richard: Poppy Delavingne, Simon LeBon, Jodie Kidd, Elizabeth Hurley, Pippa Middleton to name but a few.
You need to have a true passion for hair – if you go into this industry just looking for fame and celebrity, it will never happen. It was about 10 years before I saw my first celebrity client!
A good apprenticeship is an absolute must – there's no substitute for working your way up from the bottom, and the experience you gain from doing it this way is invaluable. Make a list of potential salons you could see yourself working for and look into their training programmes, then apply to do a trial. Remember that just because there might be a big name or brand behind a salon, that doesn't necessarily mean the training is better than somewhere else – do your research and find the salon that's perfect for you.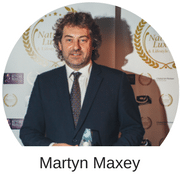 Martin's sensational salon is based in the exceptionally fashionable West End of London, in Wigmore Street just a hop, skip and a jump away from Selfridges. Martyn has styled some of the biggest names including Naomi Campbell, Anna Wintour, Minnie Driver, Elle Macpherson and India Hicks.
It's a long haul to the top, so give yourself a head start and train with the best you can, go see as many hair shows and trade shows as you can join the Fellowship of hair artists. You should also immerse yourself in the craft, don't just learn what is fashionable today but fully arm yourself with every hairdressing skill! What's dated now will be the fashion of the future as everything goes in circles. Vidal Sassoon's bob was a re-hash of the 1920's bob but he updated it with a fresher look. The next fashion is curls in all forms so everyone will be digging out old copies of Vogue for the next re-invention.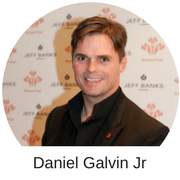 As well as opening his own salon in 2008,  Daniel Galvin Jr. is responsible for creating a very respected collection of natural organic haircare. Daniel travels all around the world for his extensive list of private clients and is well-known for doing some very high profile celebrities' hair including Kelly Brook, Amanda Holden, Holly Valance and X-Factor's Louis Walsh.
Hairdressing is a great career and the sky is the limit. Unfortunately there are no shortcuts to the top. Be a leader. Be unique. Whatever job in hairdressing you have, always do it to the best of your ability. Always be creative and always think outside the box and at all times make an effort with your attire and the way you look. Be courteous to your colleagues and respectful of your seniors. Treat people how you want to be treated yourself and you will achieve great things. Remember what goes around, comes around.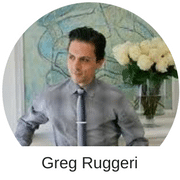 Salon Ruggeri is based right in the center of Manhattan, on 5th Avenue. Greg has been styling hair since the tender age of 15 and is the hairdresser of choice to many US celebs and works with high-end magazines such as Vogue and Harper's Bazaar on fashion shoots but he's exceptionally approachable and gracious
Greg: Take advantage of apprenticeship, and be hands-on. A lot of hairdressers tend to be visual learners, but I am much more of a hands-on learner. I really enjoy getting my hands dirty and figuring out how a color formula works or how the hair lays by doing it myself. You have to be ready to learn and also make mistakes. Making mistakes is how you get better at your craft. You can't expect to know everything and perform everything to a top tier level of perfection on the first try; that's just not realistic, even if you've had extensive training. Those who dream of becoming a top hairdresser should be open to learning as much as they possibly can; you can never have too much knowledge or experience, especially in the service industry.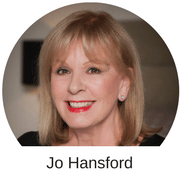 Jo's luxury hair salon is based in London's swish Mayfair and has been going for over 20 years. Jo has a host of well-known regular clients including royalty, all have Jo and the team to thank for their glorious looking hair. Clients include The Duchess of Cornwall, Liz Hurley, Angelina Jolie and Nigella Lawson. Boasting her own collection of premium quality shampoos, conditioners and treatments, Jo and the team really understand how to look after hair so it stays healthy and has the WOW factor.
Be prepared to work hard, be dedicated and keep learning. Practice as much as possible and take every opportunity that is offered to you. If you are hungry and prepared to work hard, your peers will recognize this and will help you achieve your goals.