Best luxury salon of the year 2015 and stylist of the year 2015 Martyn Maxey agreed to talk to Hotstylers.co.uk about everything hair (and he told us about his busy life too!). His sensational salon is based in the exceptionally fashionable West End of London, in Wigmore Street just a hop, skip and a jump away from Selfridges.So why not book in for your new look and enjoy some indulgent shopping too? You'll be in good company, being one of the top hairdressers in London; Martyn has styled some of the biggest names including Naomi Campbell, Anna Wintour, Minnie Driver, Elle Macpherson and India Hicks.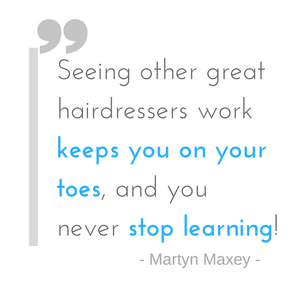 Martyn's successful West End Hair salon has been going since 1991, moving to its new location in 2013. You'll find a modern, stylish and sophisticated setting which offers a host of luxurious hair treatments including Brazilian blow-drying, hair-up, colouring, highlighting, cutting, styling and if you want to pamper your nails, manicures and pedicures. It's also one of the go-to's for Brides-to-be so if your big day is coming up, Martyn and his team will create head-turning hairdo's for you to wow your guests and of course, your groom.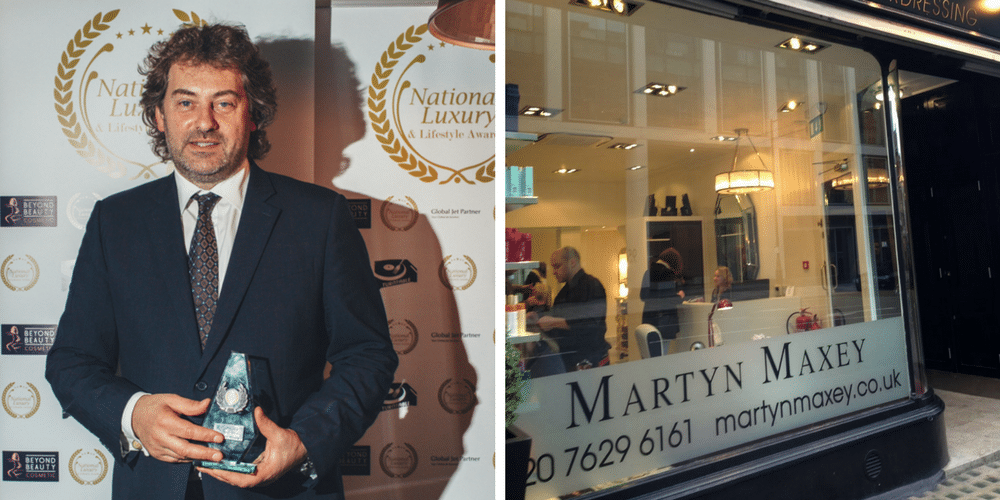 Emma:

 Martyn thanks for talking to us! We'd like to know what inspires you every day and where do you get your energy from? We know how busy you are!
Martyn: Just living and working in London every day for so long now is such a great inspiration. I live in Chelsea and work in Marylebone so I feel privileged most of the time. Just being in London everyday charges you up it's always an interesting and exciting place. I have always had good energy levels and I think you need to maintain them. Holidays help and short breaks – even just a day away is beneficial to recharge yourself but the closer to the Ocean I get the better I feel.
Emma: What does a typical day In Martyn's life Look like?
Martyn: Every day is always unique and different sometimes goes as planned sometimes it can go better or worse than expected! Having your own salon is never a regular 9-5 job so often your plans are changed or re-arranged at short notice and being flexible is key.
Emma:

 Do you have any recommendations for genuinely avoiding heat damage from hair tool use?
Martyn: The only way to control the heat damage is to turn the temperature down on your tools or restrict the amount of times you use your tools in a week. Using a direct heat contact tool of 180 – 220 degrees is always going to do some damage, No amount of heat protector spray is going to prevent long term damage in my opinion.
Emma:

 We know your salon is rated one of the very top salons in the UK. What makes it unique compared to others?
Martyn: Well every stylist has his or her opinion on what is the right way! I always try to treat clients as I would like to be treated. It's important to learn various techniques of customer service and really understand what that means. I learnt over many years going to restaurants in London, and visiting international cities like Paris, Rome, Barcelona and New York to see how everyone else does customer service.

I think you should take all the best you see and leave behind what you don't think works. I love seeing other great hairdressers work and have seen and worked with many so giving yourself a rich input of knowledge is a huge advantage, it keeps you on your toes and you never stop learning.
Emma:

 What are the best hairstyling tools for curling hair, creating a big, bouncy blow dry and for creating a sleek, straight style and can you advise on premium quality hairstyling tools for women on the go?
Martyn: I like Babyliss Black ceramic curling irons, and the latest GHD straightening irons and we also use Babyliss heated curlers regularly too. We have several other pairs given to us such as Wella and manufacturers from Korea and Corioliss, most are good. My dryers are generally Parlux but last week I tried the New Dyson Hairdryer and I surprised myself at how good it was though it is £300. I think hairdressers should get these at cost, there's a good Idea for James Dyson!
Emma:

 Do you have any advice for those out there who dream of becoming a top hairdresser?
Martyn: It's a long haul to the top, so give yourself a head start and train with the best you can, go see as many hair shows and trade shows as you can join the Fellowship of hair artists. You should also immerse yourself in the craft, don't just learn what is fashionable today but fully arm yourself with every hairdressing skill!

What's dated now will be the fashion of the future as everything goes in circles. Vidal Sassoon's bob was a re-hash of the 1920's bob but he updated it with a fresher look. The next fashion is curls in all forms so everyone will be digging out old copies of Vogue for the next re-invention.
Thanks Martyn – sound advice from the best – you can't argue with that. We'll be digging out our curling irons for the next trend and hope to pop in and see you soon in Wigmore Street, Marylebone.