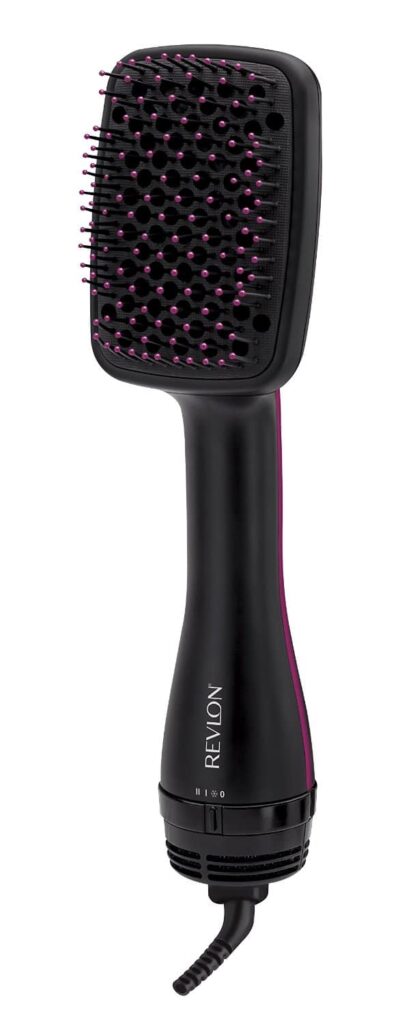 My favourite hair styling brand Revlon has done it again with their latest hot hair brush styler.  I am completely in love with it having purchased it two weeks ago from Amazon.co.uk.  There are so many of these new hot hairbrush stylers on the market I was a little confused with which one to buy but because I have used Revlon products for so many years I felt very confident in my choice and I also check the reviews on Amazon.co.uk whenever I make a purchase – this one scored 4.1 out of 5 stars based on 100 reviews.  I was also pretty impressed with the price and for a dryer and styler all in one, it beats buying a separate hair dryer and hair straighteners.
The reason I wanted this type of styler was mainly because I needed something that was quick and which could dry hair as well as style it at the same time.  I am very time poor, with work commitments and my young family yet I still want to look good so my hair is important to me.  My hair is fairly long and reasonably thick so it's not easy to style, it's certainly not the type of hair you can just wash and go, unfortunately. 
This brush promised me drying while styling and even stated that getting to the back of my head would be easy.  Having said that, the back is the trickiest part to get to so I would advise sectioning hair out so you don't end up with waves and wiggles where the brush hasn't managed to reach.
I like that this brush is far gentler to use, straighteners always concern me especially as they get to such a high heat.  You don't press this brush down on any part of the hair for long because you sweep it through, like a regular hairbrush.  It straightens as it glides through – genius!  If you're prone to frizz, this brush is the perfect styler for you because it has ionic conditioning, getting rid of frizz and static as it smooths out hair.  Also if you worry about hair damage – don't because these bristles are flexible so they move rather than pulling on hair and breaking it, much kinder on hair especially fine and brittle hair. 
If you want a cooler setting, there are two settings to choose from and the cool shot is invaluable when you want to set your hair, I use it at the end so it keeps my style in for days.  It's very portable and sometimes I have to rush somewhere straight from work so I just pop my Revlon Perfectionist in my work bag and take it with me, it's so lightweight I hardly notice it.  As for speed, I used to spend a good half an hour on my hair in the morning but now it takes me just 20 minutes to dry and style – leaving me with a full extra ten minutes to snooze in bed!
How to use the Revlon styler dryer tutorial
As for the reviews on Amazon.co.uk, 51 people rank this 5 out of 5 and I would strongly agree with them.  They are even suitable for use on Afro-American hair which is usually very dense and thick and if your hair is extremely long then don't worry, this brush is suitable for all lengths (short too).  The very few negative reviews state that it's quite noisy (I don't mind this, I'm used to hair dryer noise) and it's a little awkward to use but actually once you get used to the shape it's fine.
So all in all, an impressive styling product which I think has revolutionised how I straighten my hair.  I already feel my hair is in improved condition and that's after using it for just ten days!  Buy it, you won't regret it.