I love hairstyling products.  That means I am always attracted to new shampoos, the latest serums and most of all I am addicted to hair technology so you'll find a huge amount of hair stylers in my bedroom. I'm forever trying new hair styles and looks with my long, medium thickness hair.  When hot hair brushes arrived I had to have one (or two, or three, or four!) yes I'm a bit of a styling addict so I've rounded up what I think are the best hot hair brushes so you don't have to try them out – you can just choose the one you think will suit your hair the best.
I usually buy all my hair styling tools from Amazon.co.uk because I trust the customer reviews, of course, you do get some fake reviews and fake products but if you're careful and you select the right seller you will always get a quality item and the best thing about Amazon.co.uk is you can return it if you're unhappy.  Bearing all that in mind, read on to find out what I think are the most amazing hot hair brush models you need to try now!
1. The Hair Dryer Paddle Brush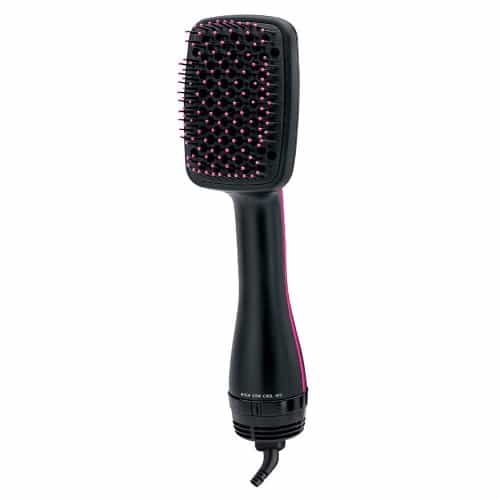 I think this is the best type of brush if you are short on time because it works exactly like a hair brush.  Simply plug in, allow it to heat up and brush your hair!  The result is sleek, smooth and shiny hair in minutes. 
This one is particularly good because you can dry your hair as you brush it whereas there are other heated hairbrushes which need to be used on bone-dry hair; also this one has a cool shot feature so you can set your hair into place – no more frizzy areas! The other thing I should mention is if you have particularly thick hair, it's best to section out hair so you get right to the underneath, otherwise you might find the bristles don't go all the way through your hair meaning the underneath is left with kinks. 
The Revlon Hair Dry Paddle Brush is also very lightweight and it works fast, I can dry my hair in less than 20 minutes so if you're time poor this one's for you.  I would say that if you're looking for curls, this won't deliver, it's best for straightening.  You can buy it on Amazon.co.uk where it retails for £30.98.  The reviews give it 4.1 out of 5 stars with 100 people rating it 5 out of 5.  I score it 4.5 out of 5 because I do like to get some wave in my hair and this one is best for poker straight styling.
2. The Round Hair Dryer Brush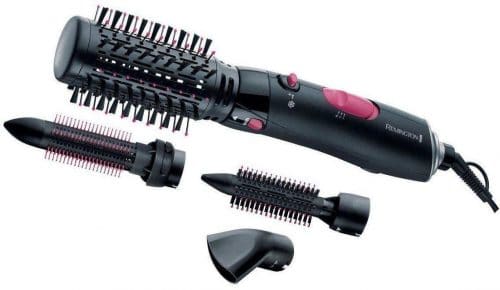 If you want curls or you want big, bouncy hair with plenty of body then you should buy one of these brushes.  If you're interested in knowing the difference between rotating and non-rotating – the answer is there isn't much difference except you have to work a little harder with a non-rotating brush, doing the wrist movement yourself but you do have perfect control. 
This styler doesn't rotate but it comes with four different attachments and two heat and speed settings and boy is it fast, with 1000 watts!  On Amazon it's not expensive at all, but what I love about this is its versatility.  I can achieve big curls, volume, small curls, bubble curls and even straight, sleek hair plus it blow dries my hair in less than 20 minutes – so when you're in a hurry this is a godsend!  It rates 4 out of 5 stars on Amazon and 170 people give it 5 out of 5.  I give it 5 out of 5 for price and flexibility and I also think it's really portable so I can stash it in my work bag or my gym bag and whenever my hair needs a boost, I just whip it out!
3. The Comb Hair Dryer Brush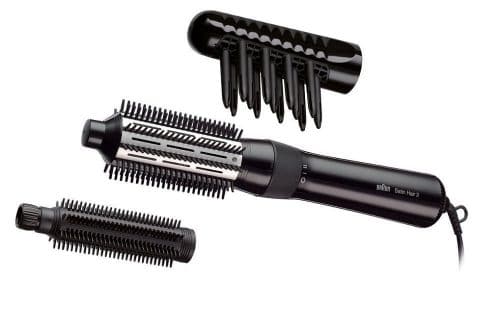 This is called a hair drying comb although in reality it's more of a brush except the bristles are wider set, the product comes with three different brushes, one is comb-like with wide set long teeth and the others are different size round barrels. It retails at a discount on Amazon so it's very easy on the pocket. 
You can expect a good quality hair styler which won't snag or pull hair and I think this is probably better for finer hair because of the wide teeth.  It might snag very thick hair.  It ranks 4.3 out of 5 stars with 18 people giving it 5 out of 5 (this is out of 25 reviews).  What I love is that it's so lightweight and it has two heat settings so you can use it according to your hair type. 
The Braun is brilliant at taming frizz and you do get a beautifully sleek blow dry with body, unlike hair straighteners which tend to leave hair poker-straight and if you want curls, switch the barrels over according to the size curl you prefer.  It's also relatively quiet so you can still hear yourself think while you use it!
4. The Curling Hair Dryer Brush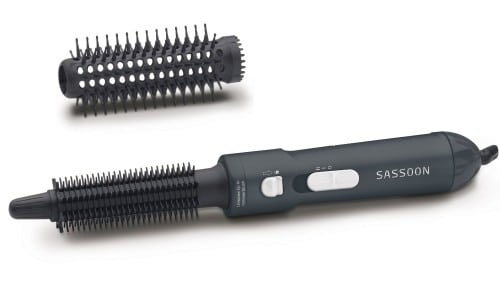 This has to be my all-time favourite because it is just so inexpensive and a great product.  For just little above £11 (on Amazon.co.uk) you get a hair styler which dries from towel dried hair and it comes with two attachments so you can use it on short or longer hair.  It's fast with 200 watts and it has a curl release switch so you can set your curls in place.  Really, for the price you have nothing to lose and this is a super product to keep with you when you're going out after work because it's small, lightweight and portable – as long as you have a mains supply.
Out of 962 reviews on Amazon.co.uk it scores 4.1 out of 5 stars and 550 people rate it 5 out of 5.  I would say if you have short hair this is definitely the right hot air styler for you.
I hope the above hair styler information helps you to make the right choice – happy hair styling!