I'm in love! It happened just a few weeks ago and I haven't looked back.  I'm reluctant to share my news with all of you because then you'll know my secret but I was brought up to be kind and play nicely!  So for all you girls out there wondering how to get salon style curls and volume at home – I have the answer: Babyliss Big Hair Spinning Brush
Babyliss Big Hair Spinning Brush Review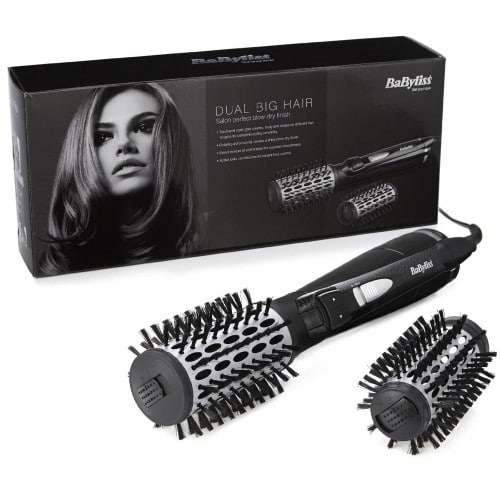 Meet my new BFF forever and latest love of my life, the Babyliss Big Hair Spinning Brush with its phenomenal 42mm or 50mm generous ceramic barrel.  Don't hesitate to buy it – while the price tag is more than most air stylers it is worth every penny on Amazon.co.uk.  Why do I love this so much?  Like most passions, it has transformed my hair and I no longer need to spend hours getting the right lift, curl or volume, nor do I have to rush to the hairdressers when I have a special occasion.  The truth is; I have salon hair EVERY day!  I know I do because I am getting endless streams of compliments and I can't stop looking at my hair in the mirror or shop windows because it looks so damn good!
When you start styling your hair using this product, you don't have to twist and turn the brush because it works for you, turning clockwise and anti-clockwise to produce soft, large, bouncy curls.  It has great technology with a ceramic coating too so it protects hair from damage and breakage as well as producing an enviable shine.  I am getting plenty of attention since I bought this – I feel like a Hollywood superstar!  It's fast too with a 700 watt dryer and gives so much lift there's no danger of style drop by the end of the day.  As for my frizz – what frizz?  It's gone! 
How to use the Babyliss Big Hair Spinning Brush for Styling – Watch Video
Here are some more benefits to the Babyliss Big Hair rotating brush:
Cool shot so it sets hair once it's styled

Useful protective shield so you can keep your baby safe!

Two heat settings, one for initial drying and the second lower heat for when you start to style

Ionic technology to ensure a smooth, frizz free and voluminous finish

Soft bristles on the brush to help de-tangle hair
I will mention a couple of negative points that I picked up on the reviews I read – at the time I'm writing this (out of 781 reviews, 543 reviewers gave it 5 stars).  The 50mm isn't suitable for shorter hair because the barrel is large, so make sure you choose the 42 mm version if you have short or shoulder length hair.  You must be careful while styling not to get it caught up in hair as it is difficult to remove and finally if you are used to a static air styler you will need to get used to it changing direction.
In conclusion – and as a styling tool addict I can safely say that for the foreseeable future I won't be searching for the next big thing because I think I've found it (for now…!)