If you've been considering buying an electric hair brush you might find my review an interesting read.  As a hair styler addict when these first appeared on the market I felt I had to try them especially as they seem to have revolutionised hair straightening.
I am always trying to tame my unruly curls into a more sophisticated, straight and sleek look and when I do decide to leave my hair curly I prefer big and bouncy curls which are impossible to achieve without teasing hair into place.  The electric hairbrush has made a big difference to how I style my hair.  I can dry it straight from wet with some models, I can brush it straight with others and I can create voluminous curls too depending on the product I use.  Here are my top four electric hair brushes worth going the extra mile for!
1. Ionic Electric Hair Brush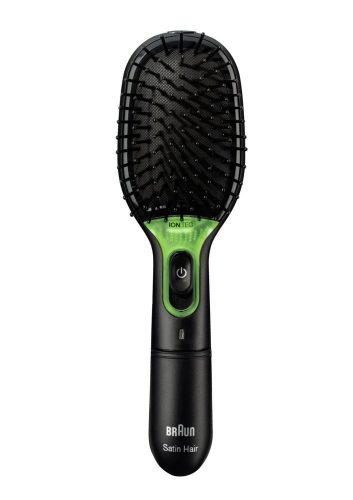 This brush costs a relatively inexpensive on Amazon.co.uk and has 205 customer reviews.  It looks just like an ordinary hairbrush except it has a switch to turn it on and heat it up. 
Another good feature is its auto shut-off which means there's never any danger of this styler over-heating.  Now what you have to remember with this hairbrush is it is NOT a straightener but it will smooth out hair and makes hair-brushing much more pleasurable especially if your hair is prone to knotting. 
It's also portable because there's no cord so if you want something to take you from day to night if you aren't going home to change or you need something to pack in your gym bag this is an essential.  Unlike regular brushes, this creates shine and smoothness and it gets rid of frizz and static. 
The negative Amazon reviews should be ignored because people bought this brush expecting it to straighten out very frizzy hair and that is not what it's designed to do.  Use it for smoothing and for reducing frizz.  The reviews on Amazon.co.uk score it 3.4 out of 5 stars but out of that score, 71 people rate it 5 out of 5 because they understand and appreciate what it does for their hair.
2. Electric hair brush straightener
Retailing at little above £30 this is an excellent all-round small hot hairbrush which does straighten hair.  If your hair is exceptionally thick it might not be suitable but if you have medium thickness or fine hair this is a must-have hair styler.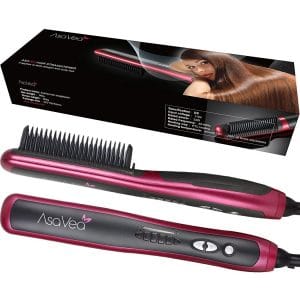 It comes in a pretty soft pink and has an LCD display so you can keep an eye on the temperature.  Promising anti-static and frizz fighting, hair is smoothed and straightened in one pass. 
I suggest you do section out hair especially if it is thicker than fine hair because otherwise the brush doesn't get right through to the underneath, leaving kinks. 
Also, beware it heats up to a very hot top temperature so allow it a good ten minutes before you touch it after you've switched it off. 
This one is a winner and it scores 4.5 stars out of 5 on Amazon – delivering everything it promises.  It's not suitable for use on wet hair and carefully brush out hair before you use it so all knots and tangles are removed, this stops any unwanted pulling when you use the AsaVea.
3. Electric hair brush dryer

Every woman should own one of these especially if you have shoulder length or longer hair!  I love this rotating brush for a number of reasons.  Firstly, it dries hair from wet so no having to dry it off first before using.  Secondly it rotates so you get plenty of big volume and you can create incredible curls which last and if you want straight hair just smooth it down as you do using a hair dryer and brush, except this works must faster and is less cumbersome than holding a hairdryer and brush at the same time. 
Thirdly it has different speeds and heat settings so you can position it to the right setting for your hair type and finally it comes with ionic technology delivering smoothness and shine every time.  At little above £50 on Amazon.co.uk it's not cheap but it's worth it for salon ready hair.  It might take a while to get used to the rotating mechanism but once you know how to use it you won't want to use anything else.  Amazon reviewers agree as well because it scores 4.4 out of 5 stars and that's out of 1,062 reviews, 722 of those reviews give it a 5 out of 5 perfect score and I agree!
4. Electric hair brush curler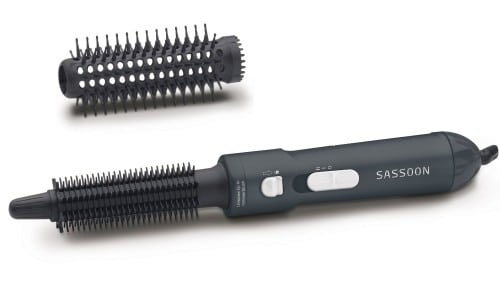 If you're watching your pennies then this product is especially for you on Amazon.co.uk and delivers good results.  It's also suitable for fine or medium thickness hair as there is an interchangeable barrel which is useful if you want to create different size curls. 
With two heat and two speed settings you can choose the one which works best for your hair.  It heats up very quickly and you can use it on towel-dried hair making it a welcome change from having to dry hair before styling.  The Amazon reviews agree as well, saying it works brilliantly for fine hair and medium thickness hair and it dries and styles fast. Out of 962 reviews this one scores 4.1 out of 5 stars.
If I was to just purchase one of the above stylers, for its price I'd choose the Sassoon Tangle Free Hot Air Styler, it delivers professional results for a ridiculously affordable price.