If you buy just one hair straightening product make sure it's the AsaVea brush straightener because it's absolutely amazing!  Save your money on expensive Brazilian straightening treatments, throw away your GHD's and any other straightening iron because this is the number one hair styler and I wish I'd known about it sooner!
You're obviously reading this because you want straight and sleek hair – safely.  The problem is that the hair straighteners on the market today say they don't damage hair but they do.  When you apply a very high temperature directly to hair it removes the moisture making it dry and brittle.  If you keep applying this heat eventually hair will break.  Even more worrying is if you have already used chemical processing such as straightening or colouring on your hair – you are at a higher risk of hair damage.  So don't use the straightening plates anymore because you just don't need to.
Asavea brush straightener review and results
The AsaVea Hair Straightener Brush is rated number one safest ceramic straightening brush.  It wouldn't get that rating if it wasn't deemed as a safe hair styler.  It works just like a hot hairbrush and looks much like a hairbrush except it plugs into the mains and heats up.  Then you simply glide it through hair, from root to tip and as it sweeps through it administers heat straightening in one pass.  There's no need to keep going over the same section and there's no damage because hair isn't being held into place by scalding plates.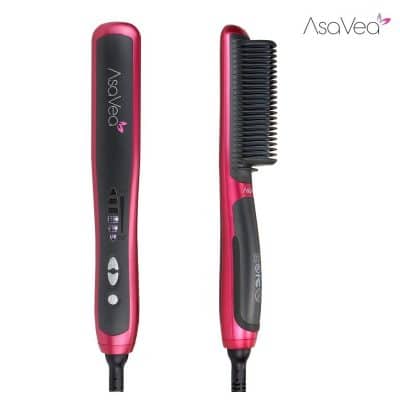 I would say that I think this is in an excellent price product, it's not too pricey and cheaper than most traditional plate hair straighteners. If you want to buy this, do it through Amazon.co.uk because then you have extra peace of mind as you can return it if you're unhappy (there is a returns time period which you would need to check).  The review system is also invaluable because you get authentic customer reviews and while sometimes there's the odd fake one, you can normally spot it.
If you buy this, remember to use in conjunction with a great quality shampoo and conditioner, apply a heat protecting spray and rough dry hair because it's not suitable for use on wet hair.  Then section out hair, plug in the hot brush and allow it to get to temperature, then simply brush each section.  I have fairly long hair and it's relatively thick, I can straighten my whole head of hair in less than 15 minutes so if you're looking for something which will give you more time to do other things – the AsaVea is the perfect solution.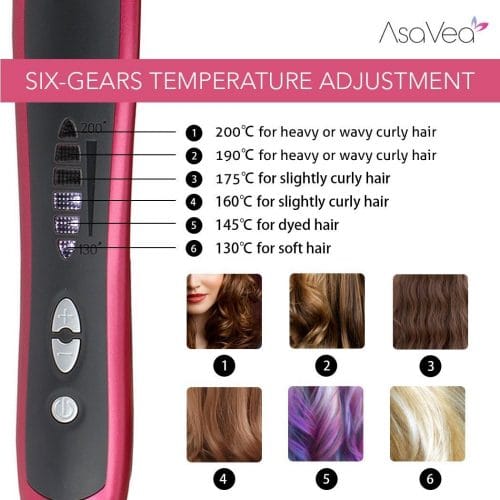 It takes one minute to reach optimum heat of 365 Deg F (185 Deg C) and this isn't as high as the temperature some of the other straighteners reach so there's no risk of heat damage.  Additionally, the bristles are coated so the outside remains cool so there's no scald or burning risk to your scalp or face.  It maintains a constant heat and there are no hot spots on the barrel.  The design is small and neat, prefect for taking away on holiday or storing in your handbag to use after the gym or if you're going out from the office. It's also fabulous to use in-between hair washing when hair tends to kink or frizz after sleeping, it smooths out in seconds – it really is brush, straighten and go!
There's no way I would go back to conventional straighteners now I have this brush and the Amazon.co.uk reviews agree with me. Go on – treat yourself!  Your hair will thank you.