You've finally bought your first curling wand or perhaps you've had one for a while and you're looking for some inspiration.  There's so much you can do with a curling wand and if you take some of my advice you'll be able to create three completely different styles.  I'm an ex-hair stylist with years of experience and I wouldn't be without my curling wand today!
What type of curling wand should I buy?
Firstly, buy the right wand according to your hair length and thickness.  If you have very thick and long hair, a short and slim styling wand won't work very well.  However, you can still buy a slim wand if you want tighter curls but make sure the barrel is long enough to accommodate your hair length.  Similarly, if you have short hair, don't buy an extra-long barrel and don't buy something with a very thick barrel, you won't be able to get your hair wrapped round it.  Always buy something with a variable heat setting and make sure you use the correct setting for your hair type so you don't risk any damage. Use a low setting for fine, damaged or dry hair and a higher setting for thick and resilient hair. Do your research first – the best place to help you when selecting the right curling wand is Amazon.co.uk where you'll find plenty of hair styling tools and invaluable customer reviews to help you make your selection.
How to use a curling wand?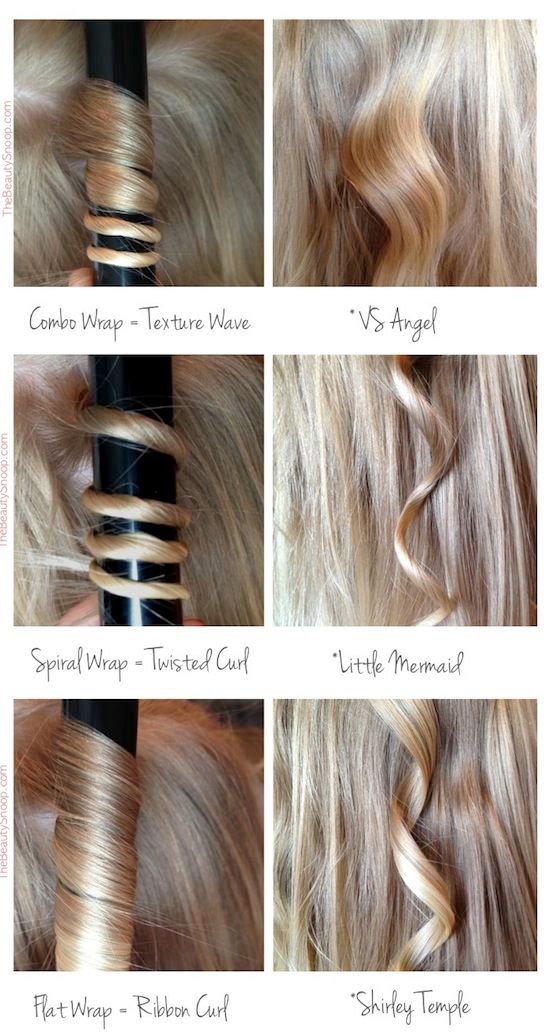 Style Preparation
Before you start, always wash your hair using a good quality shampoo, condition it and apply a heat protecting spray.  Dry hair fully and comb it out, then I would suggest sectioning it so you don't pull other parts of your head while using your wand.  Once your wand is heated up, be sure to use a surface protector such as a suitable mat or double up an old towel.  Always use a heat protecting glove so you don't risk burning your fingers.
#1 How to use a curling wand for spiral curls
The tighter you wrap your hair, the tighter the curl!  So if you want little bubbly curls all over your head (and this style works for shorter lengths and longer lengths) simply wrap the hair round the barrel tightly without any gaps in between.  Hold it for a few seconds before releasing the curl.  To keep the curl in place, you could pin it back until you've completed the whole head – this stops any of the curl dropping out!
#2 How to use a curling wand for ribbon curls
Imagine the ribbons on top of a beautifully wrapped present.  They are usually looser but have a defined curl.  These are easy to achieve using a curling wand.  Take a piece of hair and comb it flat, then wrap it round the curling wand without leaving any gaps but still keeping the hair flat.  Hold for a few seconds and let the curl drop out.  The curl should be wider, with similar width to a ribbon but still defined.
#3 How to use a curling wand for loose waves
To achieve looser, more care-free waves heat up your curling wand and unwind your first piece of hair.  Wind it against the barrel of the wand but make sure there are plenty of gaps in between each wind of hair.  Hold in place for a few seconds and release.  Repeat over the whole head for loose, sexy beach waves and finish with a slick of serum.  For a more tousled look, separate the curls using your finger-tips.
#4 How to use a curling wand for extra large curls
If you have long hair and want to create big Hollywood glamour, section out your hair into bigger areas and begin at the back.    Use a very thick barrel and take the first large section, wrap hair from the root right to the tip while pointing the curling wand in a downward direction. Hold for a few seconds (maybe add on an extra second as you are using a larger amount of hair) and release.  You should have a voluminous, bouncy curl.  Repeat over the remaining sections and ideally you will be able to produce old school glamour in just a few minutes.
So there you have it – four stunning different looks from just one styling tool!