You've just been offered an interview for a job you really want to get so making the right impression is of course, really important. From what you choose to wear to your accessories and make up not to mention your hair.
Even if the job you want is something in high-fashion, music or in an exceptionally creative environment – your hair should look the part and never be left unkempt or untidy, at least not when you're applying for the position!
There is a saying, dress for the job you want not the job you have and the same rings true with your hair – dress your hair for the job you want and hopefully you'll get it.
Styling your hair for an interview will give you additional confidence too. A smart and sophisticated up-do speaks volumes and automatically elevates your stature, helping you to really stand tall.
Wearing a power suit with a messy pony tail will not look good because the overall look is unfinished so make sure you are polished from head to toe and ready to get that job which you know belongs to you!

Here are 5 hair styling tips to help you wing it through your job interview!
1. Touch Up Your Roots!
Never go to an interview with your undyed roots showing – if they need doing go to the hairdresser. There's nothing worse than black roots on blonde hair or vice versa so go the extra mile and look refined from top to toe. If you don't have time to get your roots re-coloured, buy some touch up hair powder or coloured hair spray just make sure it matches your hair colour first!
2. The Power Chignon
If you're going for an office job or perhaps you want a job where looking chic, smart and sophisticated is top of the agenda nothing tops the power chignon. It's classic, timeless and tidy – which shows you mean business! With clean hair, tie it into a low pony tail and smooth down some styling cream or a little Moroccan oil. Once you've fixed your pony tail, wind the rest of the hair round the circumference and fix with bobby pins. Alternatively use a donut and place it over your pony tail, spreading the hair neatly around its circumference. Tuck hair round the donut securing with a hair band and hiding excess hair behind it, fixing with bobby pins. Finish off with hairspray so your hair stays firmly in place all day.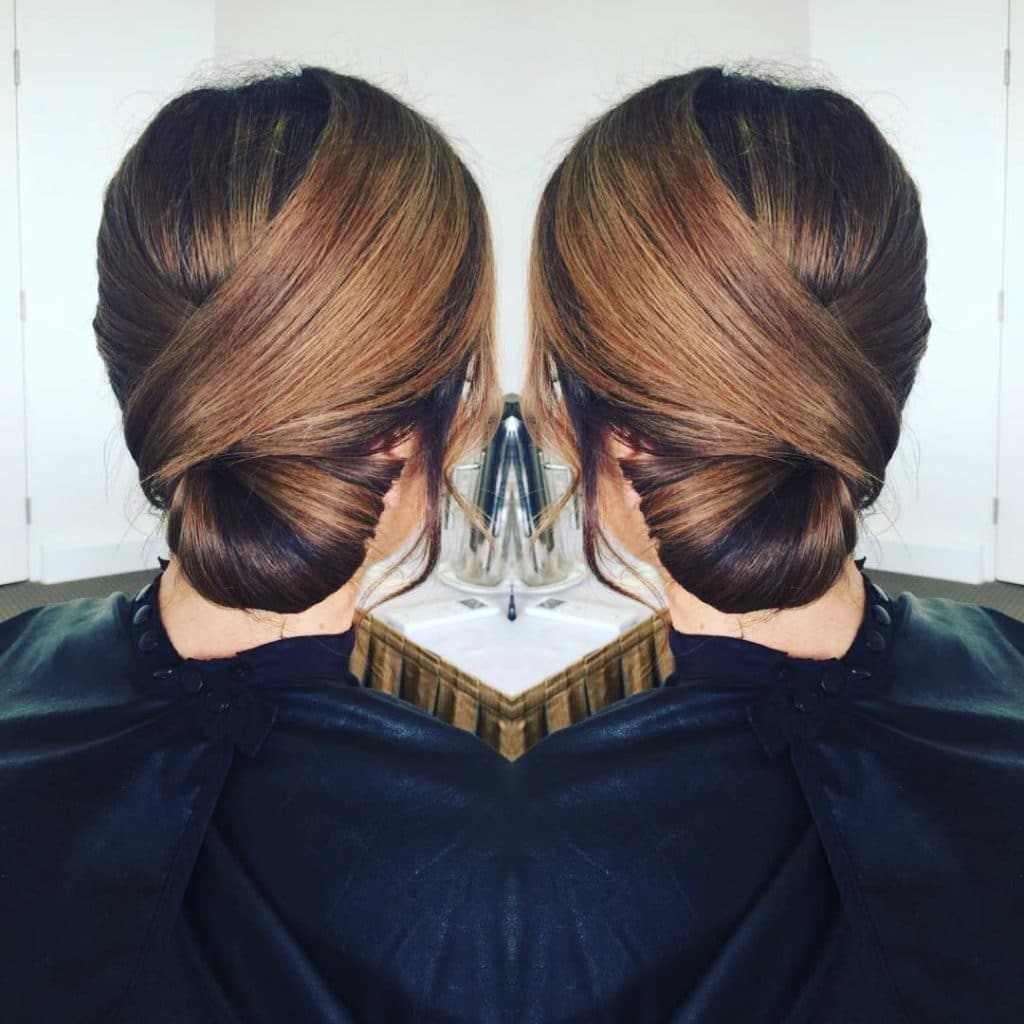 3. The Straight & Sleek Do
Straight, neat and shiny hair always goes down well at a job interview and means you can wear your locks loose. It's best to use a neat hair clip at one side to make sure no stray hair falls into your face while you are answering questions.
To get your hair super smooth and sleek, it's important to make sure the ends are all neatly trimmed so get a haircut before your interview. On the day of your interview, wash your hair using a good shampoo and condition it.
Towel dry your hair before applying a quality heat protecting spray. Dry off the rest of your hair using a hair dryer and then section your hair out before using a straightening hair brush. Be sure to heat your straightening brush to the right temperature – too hot might burn and too cool might not straighten your hair out how you want it.
Always start from the back. Unwind the first section and brush through the straightening hairbrush. One pass should be all you need for smooth, glossy and shiny straight hair. Repeat all over your head and when you've finished apply a little Moroccan oil to add some shine. Slide in your clip and you're ready to take on the world!
4. A Smart Pony Tail
A pony tail always looks polished – it keeps hair away from the face and shows a neat, smart outlook. If you have a tendency to touch your hair while you speak it is better to tie it back, away from temptation! If your hair is particularly curly and you don't want to straighten it out, opt for a pony tail but you might want to consider taming your curls into sleek coils using a round straightener and curler.
5. Don't Over Accessorise Your Hair
Remember to keep it simple and smart. Overkill can literally kill your chances of job success. Those cute butterfly hair clips won't cut it in an office and nor will a brightly coloured scarf unless it's a fashion job you're applying for. However, a neat Alice band, simple neutral coloured scrunchie or plain Kirby grips will tick every box – remember less is more.
Finally, when you're happy with your hair just remember to let everything else flow too. Don't ruin your overall look with open toe shoes, flip flops or sandals. Say no to body piercings on show, no visible tattoos and never wear anything low cut or a very short skirt.
Follow all the above tips, do your homework and come across with confidence and you're sure to be offered the job as soon as your interview is complete. Good Luck!