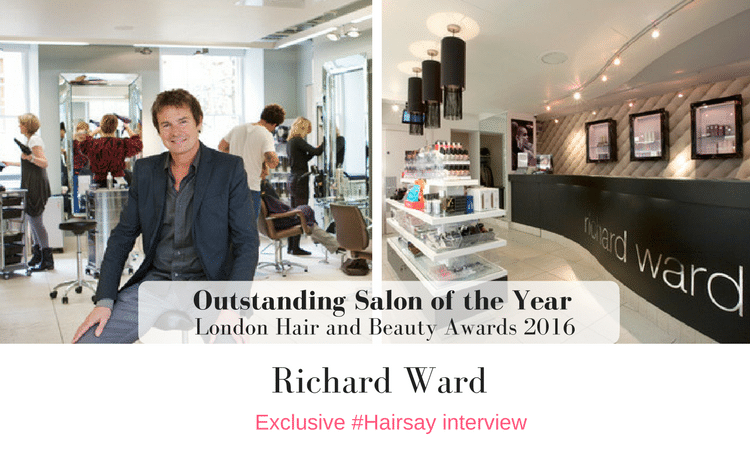 Recently, #Hairsay was granted an interview with the crème de la crème of world hairdressing, Richard Ward. It was truly an honour because Richard's diary is no less than hectic and with clients such as HRH The Duchess of Cambridge – he's always on call. The opulent Richard Ward Salon resides in London's uber chic Sloane Square, just a few moments from Kings Road and a hop, skip and a jump from Harrods and Harvey Nichols. It's a dream location for dream hair. The salon itself services 1200 clients a week; from Richard's loyal regular clients to real celebrities and a host of royals. This hairdresser's is the number one destination for fabulous hair.
Husband and wife team, Richard and Helen run the large, plush salon and the staff working under them are all highly trained in what they do. In fact, hair styling is an absolute art at this salon which is why it's always busy and everyone who walks out of the salon looks like they've stepped off of a magazine cover.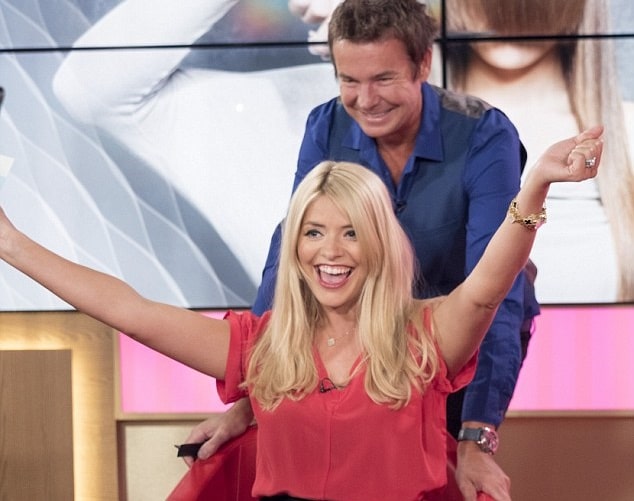 The salon genuinely oozes class and sophistication, it's state of the art and yet has a warm, welcoming atmosphere – nothing is too much trouble for the army of staff available to tend to your every need. There's even a spa – the award-winning Metrospa. Visiting Richard Ward is so much more than just getting your hair done; it's a thorough hair and body experience especially if you do add in one of the rejuvenating skincare treatments. You'll be in good company too, as well as a few well known royals you could be rubbing shoulders with Poppy Delavingne, Simon LeBon, Jodie Kidd, Elizabeth Hurley, Pippa Middleton and a host of other big celebrity names who all get their hair done at Richard Ward.
Styling hair since the tender age of 17, Richard knows everything there is to know about hair, from what product to use to how to get even the most difficult hair to look perfect. A blow dry really lasts, no restyling required the next day or even the day after that! He's also the man behind the Tangle Angel, a terrific detangling brush that is gentle on the hair and scalp. He also has his own collection of hair products called the Chelsea Collection so if you don't live nearby you can at least use his notable products at home.
However if you do want to experience the luxurious Richard Ward surroundings and breathe life into your hair then an appointment with Richard will cost £325, a top director £170 and a Senior Stylist £120 (there are other stylist options too). Of course, if you want a quick but fantastic looking blow dry there's also the Chelsea Blow Dry which will only set you back £25 – even luxury is affordable at Richard Ward!
Emma:

 What inspires you every day and where do you get your energy from? It must be hectic doing what you do!
Richard Ward: Having happy clients and happy staff really inspires me! I love my job – it is hectic but no two days are ever the same. I've been lucky enough to meet and work with some really amazing people, travel the world and build a wonderfully loyal client base.
Emma:

 What does a typical day in Richard Ward's life look like?
Richard Ward: My week is so varied – if I'm in the salon it ranges from seeing clients, filming videos and having meetings to doing makeovers, catching up with my artistic team and planning shows. I also travel a lot with Tangle Angel, my detangling brush brand.
Emma:

 Do you have any recommendations for genuinely avoiding heat damage from hair tool use?
Richard Ward: A heat protector is an absolute must to avoid unnecessary heat damage – I wouldn't style hair without one. If you use heated tools every day, try to give your hair one or two days off per week – you will notice a difference in condition.
Emma:

 We know your salon is rated one of the very top salons in the UK. What makes it unique compared to others?
Richard Ward: Clients come to the salon for lots of reasons, but why they stay is largely because of the amazing people we have working here – what really sets us apart from the rest is our unique team. The vast majority of our stylists, colourists and therapists have worked their way up through the ranks under our in-salon education programme, so in a way, they have 'grown up' with the Richard Ward ethos.
Emma:

 What are the best hairstyling tools for curling hair, creating a big, bouncy blow dry and for creating a sleek, straight style and can you advise on premium quality hairstyling tools for women on the go?
Richard Ward: The Babyliss Pro large conical wand is excellent for creating curls – it heats up very quickly and the curls keep their shape for a long time after. I absolutely would not be without a real round boar bristle brush (like my Shine Angel brush) and a Parlux 3800 professional hairdryer for a big, bouncy blow dry as well as a sleek, straight style – these are essential to creating smoothness and shine.
If you're on the go and looking for easy but effective tools, the Babyliss Pro range is brilliant – they allow you to create different styles quickly and easily, which is great for a time-poor but style-conscious woman.
Emma:

 Do you have any advice for those out there who dream of becoming a top hairdresser?
Richard Ward: You need to have a true passion for hair – if you go into this industry just looking for fame and celebrity, it will never happen. It was about 10 years before I saw my first celebrity client!

A good apprenticeship is an absolute must – there's no substitute for working your way up from the bottom, and the experience you gain from doing it this way is invaluable. Make a list of potential salons you could see yourself working for and look into their training programmes, then apply to do a trial. Remember that just because there might be a big name or brand behind a salon, that doesn't necessarily mean the training is better than somewhere else – do your research and find the salon that's perfect for you.
Hairsay thanks Richard for his valuable time – it's been a pleasure and a privilege to talk to you.