As it's fast-approaching the festive season we're sure your diaries are filling up with lots of fabulous events to keep you busy, from family get-togethers to work drinks, that big office party and all those special nights out with your friends. It's time to look ultra-glamorous and at Hotstylers.co.uk we have some great ideas for making sure your hair is perfectly prepared for the party month.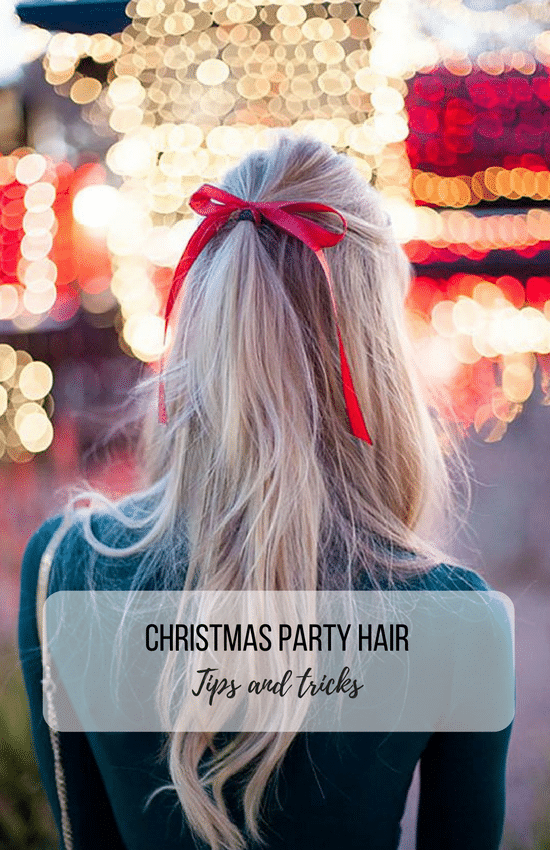 1. Get Hair In Shape
First of all – it's a good idea to get your hair in good shape. Invest in a good quality shampoo and conditioner that suits your hair type. If you have chemically treated hair or your hair is prone to breakage or damage always use a sulphate free brand. Sulphates (Sodium Lauryl and Sodium Laureth Sulphate) can block up hair follicles and contribute to hair damage. It also often leaves unwanted residue on scalp and hair, remember, your aim is weightless, bouncy and lustrous hair. Use a treatment on your hair once a week to get it ready for all the festivities – if you can, leave one in overnight and shampoo out the next morning. You might want to consider coconut oil because it's wonderful for your hair. As a tip, you can coat dry hair with it and go to sleep then wash out in the morning (just put a towel over your pillow to prevent any oil seeping through).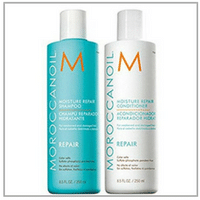 Moroccan Oil Shampoo and Conditioner 
BUY HERE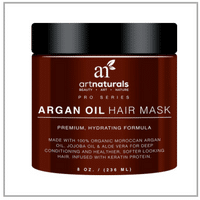 Argan Oil Hair Masque 
BUY HERE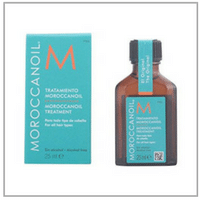 Moroccan Oil Hair Treatment BUY HERE
It's wise to try and keep heated styling to a minimum but we know it's difficult especially when there are so many parties to go to. Always use a heat protecting spray before you use a heated styling tool. Use a low temperature setting – many women just automatically turn the temperature setting up to the highest level but this temperature should only be used for very course, thick and unruly hair.
If your hair is dry, thin, prone to breakage or chemically processed you run the risk of damage using heated tools so keep the temperature low and don't keep going over the same section of hair. Look for styling techniques that don't require heated tools, for example, tightly plait hair overnight for soft waves or put damp hair in rollers and allow hair to dry naturally. Then shake out your curls and add a little serum to give your hair shine and smooth away any flyaway hair.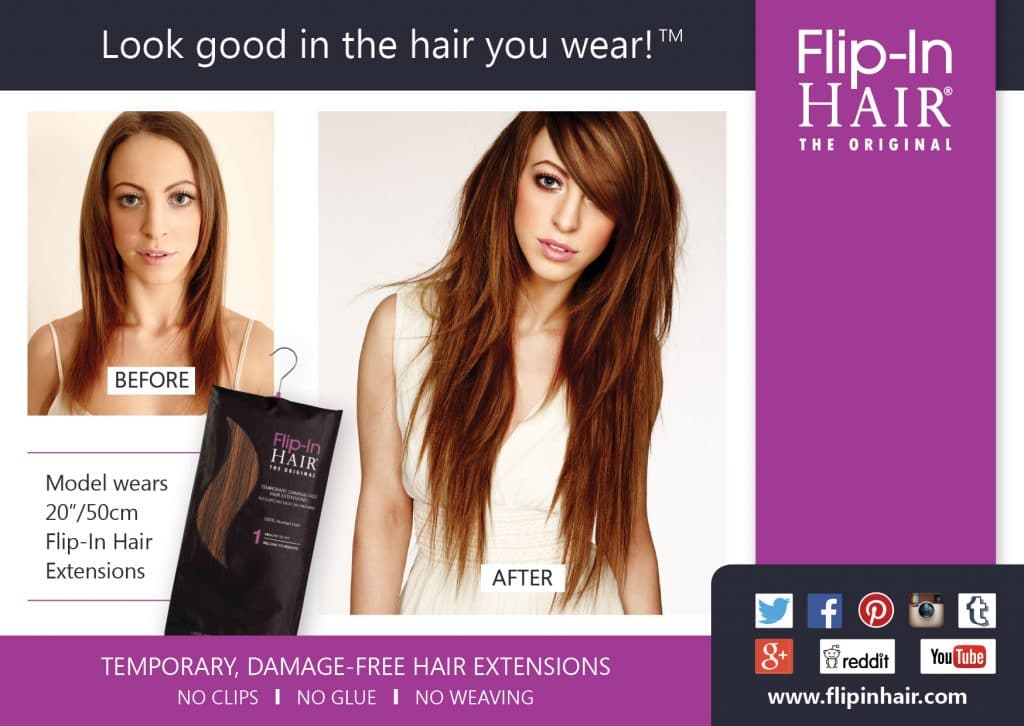 2. Quick, Damage-Free Styling Solutions For Party Hair
We have some other incredible styling solutions that give hair instant glamour and require barely any styling whatsoever! Flip-In Hair is a revolutionary product that changes your hair in seconds. It's perfect for adding length and fullness or even a shot of dramatic colour to give you the look you want with absolutely no damage to hair at all.
Flip-In Hair is made out of 100% high quality real human hair and dyed in a multitude of different shades so there's almost certainly one to match your own hair colour. Most of the Flip-In Hair packs come with it straight but as it is human hair it can be styled any way you want to wear it. The hair is securely attached to an almost invisible, extremely thin wire and it's very easy to put it in, in fact it takes seconds!
Here's how you fit Flip-In Hair :
Style your hair as you would like to wear it (curly, straight, wavy etc.)
Part your hair naturally
Place the hair that is attached to the wire onto your head so it sits just below the crown. At this point you can visibly see the wire around your head
Take a tail comb (supplied with each Flip-In Hair) and use the thin metal end to gently pull your own hair over the wire
Repeat this action all over your head
If you need to, blend the Flip-In Hair together with your own hair

So if you've been dreaming of long, luscious locks this Christmas you don't have to wait another year for a few inches of growth – the Flip-In Hair collection comes in a range of different lengths, 12", 16" and 20". This means if you long for hair down to your waist you can have it, instantly! Or perhaps you want to add some fullness – in which case, trim your Flip-In Hair extension to your desired length and put it on, instant thick hair! Flip-In Hair extensions means there's no glue, no weaving, no tape, no clips just a comfortable wire that doesn't affect your hair's health at all.
3. Split-Second Party Hairstyle

If you're in a hurry then try an even easier quick party style with the Pasoday Ponytail which just attaches to your natural ponytail in seconds. Just like Flip-In Hair it comes in a multitude of different shades and is also available in three different lengths (12", 16" and 20"). All you have to do is hook it into the base of your own ponytail, wrap it round, hook the other end in and conceal it with a piece of the ponytail's hair – it couldn't be easier and gives a dramatically sophisticated party-look, perfect for going from office to party in minutes. The ponytail can be styled as you desire, so if you want a plait, you can braid it or perhaps you'd prefer a chignon, it's remarkably versatile.
4. Quick Colour Without The Dye!
Finally, if you don't want to change your hair's length but do fancy doing something a little different, the Flip-In Hair Flashes are brightly coloured funky hair pieces that attach to your natural hair with a little wire. They come in really bright colours so they're guaranteed to get you noticed and there's no better way to introduce temporary damage-free colour to your natural hair, simply take it out when you get home and store away for next time!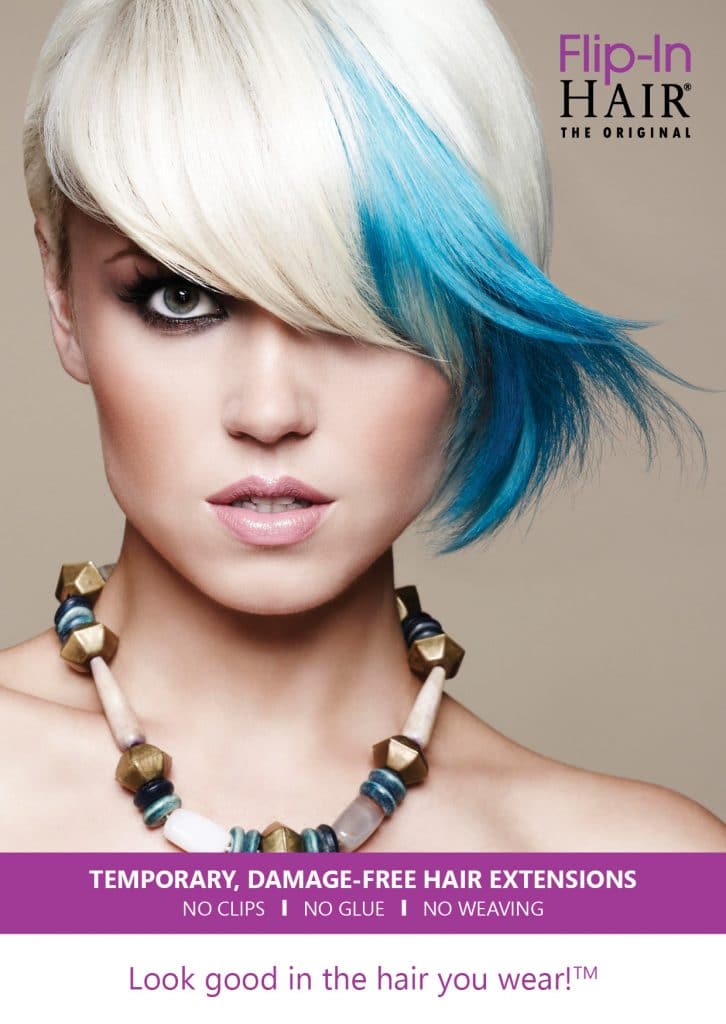 So now you know how to get fabulous looking, longer, fuller hair in seconds would you like to win one of the Flip-In Hair extensions?
WIN FLIP-IN HAIR!
Two lucky winners can get their hands on a 16" Pasoday Ponytail or a 16" Flip-In Hair Extension to match their own hair colour (subject to colours on the Flip-In Hair website). To win all you have to do is complete the following sentences in the comments below:
I simply must have a Flip-In Hair Extension because….
or
I simply must have a Pasoday Ponytail because…
a Rafflecopter giveaway

Competition closes on 16th December and is subject to Terms and conditions