I'm afraid I love my styling tools perhaps a little too much and in my wardrobe at home, you'll find enough styling tools to furnish an entire hairdressing salon!  It's not that I'm an addict but I am always looking for something that works fast and styles my usually unruly and thick shoulder length hair.  I'm always in a rush but I like to look good so when something appears on the market that promises fabulous looking hair – I have to give it a try!  Bearing all of the above in mind, I consider myself somewhat an expert in most hair styling tools.
The latest hair straightening brush models out there
My latest favourite styling tool is the hair straightening brush styler.  This looks like a hairbrush, feels mostly like a hairbrush and works like a hairbrush except it heats up and straightens as it glides through your hair.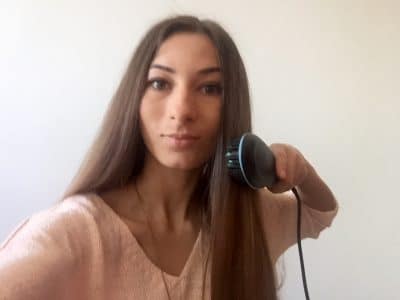 When I first heard all of that I thought this sounded pretty incredible – it meant that I could brush my hair and go…So I tested a couple of different stylers (not content with just trying one out) and concentrated on the DAFNI and the AsaVea.  Now the reason I decided to try both was because one was much less expensive than the other so I wanted to see if there was a difference. 
The DAFNI was the more expensive of the two, retailing at well above £100 , while the AsaVea straightening brush retailed at just at quarter.  Both are available on Amazon.co.uk – the best place to shop because you do get the advantage of consumer reviews, although when I purchased the DAFNI there were no reviews posted at the time.  Still, the DAFNI website promised me excellent results so I was willing to take the risk.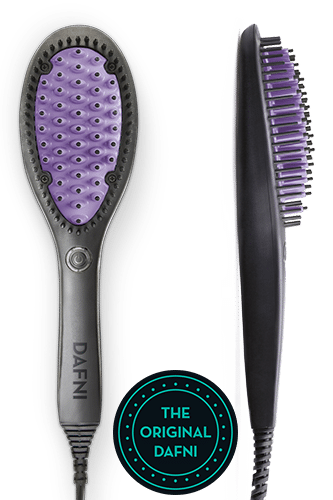 #1 How good is a hair straightening brush at straightening curly hair?
Both of the hair stylers do work, to a degree.  My hair is medium thickness rather than very, very thick.  I would say to you that if you do have exceptionally thick hair these hairbrush stylers aren't for you because the teeth are not long enough to get right through hair so they would take an awful long time to get the job done.  Stick with your hair straighteners.  However, as my hair is medium thickness they did do the job and neither worked faster than the other.  I would imagine that fine hair would have superb results using these hairstyling hot brushes.
---
#2 How hot should a straightening brush get?
They work by heating up to a very high temperature but do watch the temperature because too hot and you could burn your hair – no one wants frazzled looking ends.  Both products promise a healthier method of straightening and I would tend to agree with this because unlike hair straightening irons, hair is not being held by two hot pieces clamping down on sections.  Instead, the brush glides through distributing heat and straightening.
---
#3 Does a straightening brush work in under 10′?
What they do promise is you just brush your hair and go – not the case in my opinion.  You do need to section hair out carefully; otherwise the brush doesn't get right to the underneath.  It might do for fine hair but thicker hair tends to kink if it's not sectioned so in the same way you use straighteners – you need to divide hair up into areas and brush each part separately.  So while the hot hairbrush stylers promise a head of straight hair in minutes – don't be fooled into thinking this is true, it's not, it still takes time and on my hair I need to dedicate a good twenty minutes to straight hair using a hot hairbrush.
---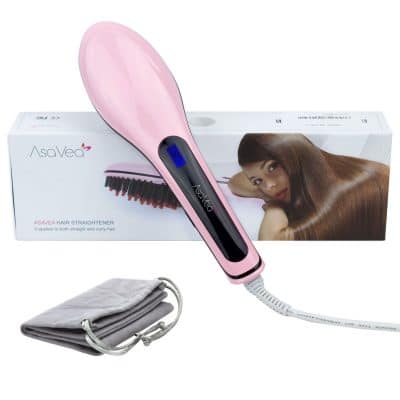 #4 Can a straightening brush guarantee salon results?
The other thing that you're not told when using these hot hairbrush stylers is you don't get lift and body.  As you're brushing hair straight from the crown to the root, you do flatten hair, which is fine if you want to have extremely straight hair but I do like a little body and lift at the root. I also find it very hard to curl the ends underneath meaning I get very straight looking hair at the bottom and sometimes I like to create flicks or a little curl and bounce – which is very difficult to achieve using these brushes.
---
#5 Is the straightening brush a all-in-one styling tool?
Finally – you can't use them on wet hair which is the same as with hair straightening irons.  So, unlike the rotating hair stylers which blow hot air through the brush area, you need to wash your hair and dry it before you use this styler.  I'm used to doing this when using straighteners so it hasn't been problematic but for those of you who want something all-in-one, these brushes are not the right product for you.
---
In summary – if you have fine hair or medium thickness hair then these are a great asset to your hairstyling drawer and they're relatively lightweight so perfect for packing away for a holiday or before a night out from the office!  Happy straightening!