I recently bought this hair straightener because I was fed up with the way my traditional hair straighteners were burning the ends of my hair.  I decided to put them in the bin! I went and had a haircut to get rid of my split ends and asked my hairdresser what he suggested I should use to straighten my hair safely.  He already used the Acevivi hair straightener comb and said it would be far less damaging to my hair.  I looked on Amazon.co.uk and sure enough, it promised me zero damage, so I thought I'd try it out for myself, plus I didn't feel it was terribly expensive.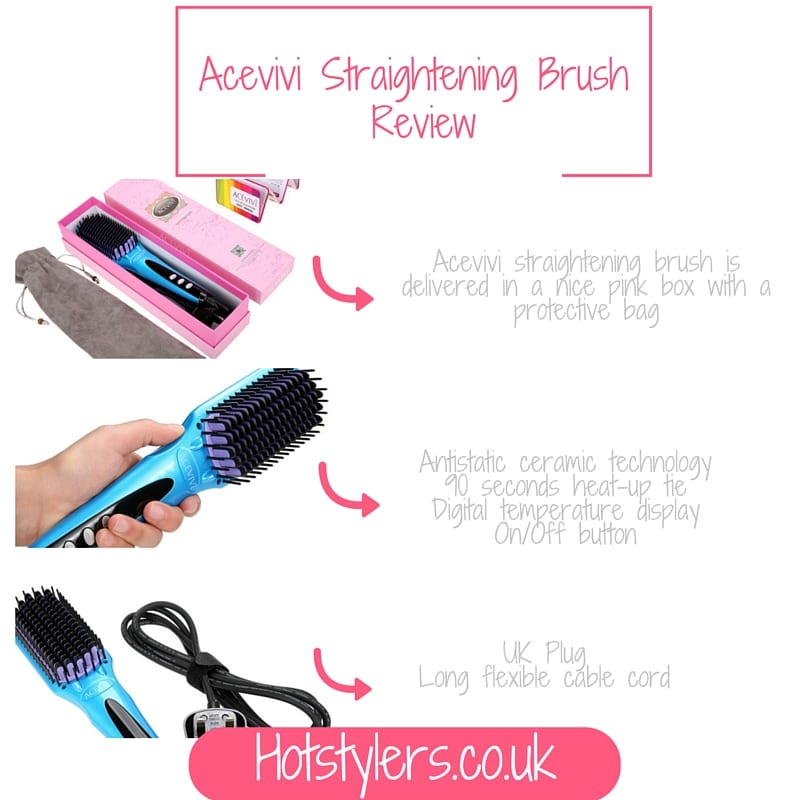 The product arrived very quickly. I chose the blue colour although it comes in a variety of cute shades.  It's set with wide bristle teeth although I think it looks much more like a hairbrush than a comb.  It also comes with a long cable so no tangling up and you simply plug in and wait for it to heat up.  Never use it directly on wet hair because it's designed for use on hair that has been washed and dried, although it also spruces up hair in between washing.
Once plugged in, it heats up very quickly right up to 230 Deg C which is good if you want a very high temperature although you can adjust it according to your hair type, from minimum 150 Deg C.  So if you do have fine or damaged hair (like me) keep it on a low setting to reduce any chance of damage and breakage.  The head is made using ceramic which distributes heat really well and keeps the heat constant, plus it removes any frizz or static leaving a super-smooth and silky finish.  Do note that as the product gets really hot don't put it down on a surface which may get burnt, use a heat protecting mat or double up a towel and place underneath during use.
Acevivi brush straightener review – how well does it work?
The first time I used it, I washed my hair and then used a heat protecting spray.  I rough dried it using a hairdryer and then sectioned out my hair.  Following that step I plugged in the Anion Straightener and waited approximately one minute for it to reach 150 Deg C and then I started to brush each section of hair from the back.  The LED temperature display is superb because it meant I was able to keep a close eye on the temperature which I think is important if you want to avoid damage. Unlike straighteners, the comb didn't sit on the hair as it straightened, it glided through and in one pass my frizzy hair was straight. Not only was my hair gloriously straight the first time I used it, it was also sleek and shiny. I had plenty of remarks later on from friends who said my hair looked so glossy and healthy. After using these, I had no wrist ache because these straighteners are very lightweight and I completed my whole head in just 15 minutes – remarkably fast. 
If you want further clarification that this hair straightening comb works, just check out the 74 consumer reviews on Amazon.co.uk where you'll find a rating of 4.6 out of 5 stars, with 60 people rating it 5 out of 5.  The negatives point out  that it took a while to cool down and some people said it didn't straighten as well as straighteners but I think those comments were from people with exceptionally thick and unruly hair, in which case I would suggest going over hair a couple of times to get the straight look desired.  Personally, I am delighted with this hair straightening comb, it's transformed my damaged hair into healthy looking glossy and sleek long locks.