These days there are a number of incredible iron brush tools on the market which promise to deliver great results.  Many do but some are damaging if not used correctly and some do deliver great looking straight and sleek hair – yet as soon as you step into humid conditions, the frizz returns.  So the quest for super straight hair is always a tricky one and bearing that in mind, I set about finding what I consider the best iron brush tools for super straight hair.
I've tried lots of different types of hair tools, from traditional blow drying with a powerful hair dryer and a good round brush (this works but I never get the sleek, shiny look I long for). I've also got many different hair straightening irons and most of them are great but I do worry about the damage they might cause with continued use.  I've done my best to avoid relaxing my hair using Keratin treatments too because every now and then I like my hair to do what it's designed to do and go curly.
I was really excited when iron brush hair styling tools arrived because I thought they could be the answer I'd been looking for and I spent hours deliberating which one I wanted to try before I settled on three different models.  I like to compare and contrast so I know I've got the best possible solution!  I settled on the ACEVIVI Electric Hair Straightener Comb, the AsaVea Hair Straightener Brush and the ACEVIVI Anion Straightener Hair Comb.  If you want to know which is the best one for your hair, read on because I've done all the hard work for you!
#1 ACEVIVI Comb Iron Brush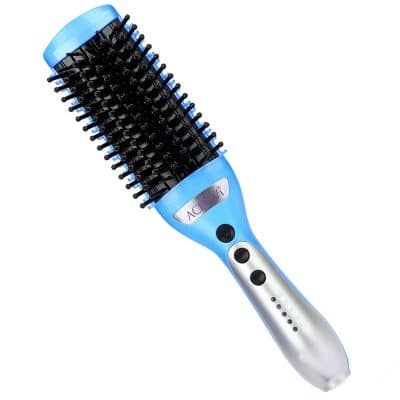 This round brush (although it's called a comb) is available on Amazon.co.uk  and I think this is extremely reasonable priced for a straightening brush/comb.  I love that it is small enough so I can pop it in my bag before going to work or going to the gym. I can use it to tidy up and flatten down any frizz that's occurred during the day or after a work-out. 
It also comes in a storage bag which is useful. It's really lightweight too and comes in three gorgeous colours, blue, red and yellow.  Do be aware that you must wash and dry your hair first before using; it is definitely not suitable for use on wet hair, just use a good heat protecting spray before you dry your hair off and section out your hair before use. 
It has a relatively long cable, so you can move around without getting tangled up and it heats up to 200 Deg C although rather slowly, it takes over 3 minutes to get to the hottest temperature.  This isn't problematic if you want to use a lower setting but when you're in a hurry in the morning those extra minutes count!  On Amazon.co.uk there are 29 reviews and the product is rated 4.6 out of 5 stars, 24 out of 29 giving it 5 out of 5.  Just use it as a normal hair brush and allow it to glide through your hair from root to tip for straight hair.  This product works well and you don't need to keep going over the same section to achieve the sleek, straight and shiny result you want.  You also don't get any unwanted kinks with this brush and as a good tip, throw your hair upside down to brush the underneath meaning you get to every part of your hair with ease!
#2 AsaVea Compact Ceramic Styling Iron Brush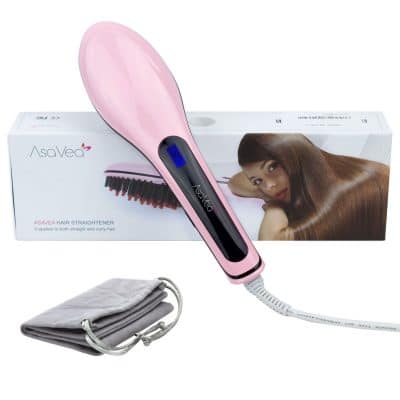 The second styling tool I chose and also recommend is the AsaVea Compact Styling Iron Brush which looks like an oval hairbrush.  It's very feminine in a cute pastel pink and comes with a digital temperature display which I think is crucial if you need to control the temperature setting.  Again, this product works well and it's at good price point.  Bear in mind it is very popular on Amazon.co.uk with 132 customer reviews, an overall rating of 4.5 out of 5 stars, with 87 people rating it 5 out of 5.  I would say beware touching it after use for a full 10 minutes as it takes a while to cool down but it does a very impressive job although it doesn't allow me to add much body to my hair. 
Having said that, it is extremely easy to use but I did find I needed to section out my hair to get each area poker straight.  If you're looking for sleek, this product will tick all your boxes and if you're looking for a tool which won't damage your hair I would recommend this over any hair straightening irons because it glides through applying heat in a much gentler way than through clamping hair tightly in straighteners.
ACEVIVI Anion Straightener Iron Brush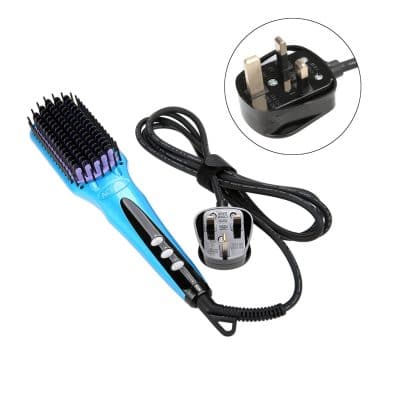 I chose to test a second ACEVIVI product because I couldn't choose between the two options so I thought I'd make my mind up by trying both.  This straightening iron brush is only £1 difference and comes in a selection of four different colours, black, blue, pink and white so you can have a stylishly bright and fun hair comb to add to your hair tools collection. 
I think I preferred this one because it heated up much faster in just 90 seconds and it climbed to 230 Deg C whereas the other ACEVIVI I've reviewed had a slower heat-up time.  This comb also has an LCD temperature display so you can keep a close eye on temperature. 
The teeth are made using ceramic technology so are designed not to damage hair and it does remove static and deliver sheen. 
The Amazon reviews score it 4.7 out of 5 stars with 57 reviews.  If you thought your ceramic hair straighteners did a good job then this one will really impress you.  It works on pretty much all hair thicknesses and the manufacturer actually gives guidelines on what temperature to use according to hair type, I think this is an excellent benefit.  Lightweight and comfortable to use it also has a useful Velcro piece which keeps all the wires neatly tucked away, a great bonus feature!  I would personally recommend the Anion as the best of the three because it won't over-iron hair, delivering a much more "natural" straight look.
So there you have my three favourite hair straightening iron brush gadgets – all of them deliver a great job but when I reach for one of these brushes, invariably it's the ACEVIVI Anion iron brush straightener that gives me the best finish.